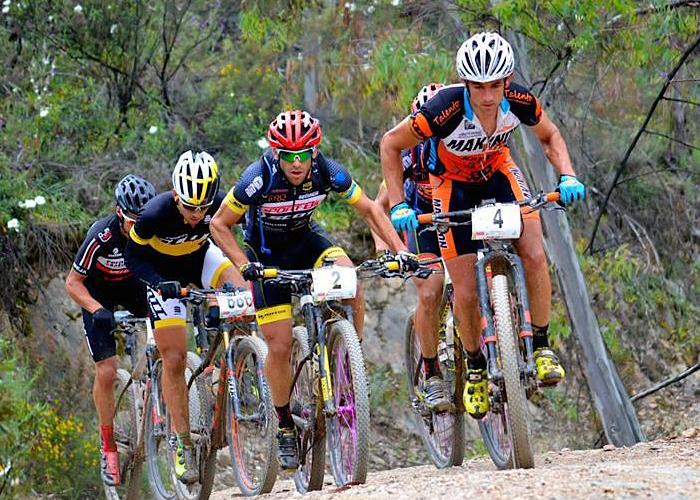 Huelva Extreme Mountain Bike Race Photo Credit: Race organisors
Mountain Bike RACES in Andalucia
ANDALUCIA BIKE RACE
The Andalucía Bike Race is a is a cross country mountain bike race founded in 2011 taking part of five or six days in and around the Andalucia town of Cordoba and Jaen taking place in late February or early March. The first six editions of the competition were carried out in pairs, in which both members have to ride together. In the sixth edition in 2017 a mainstream format of individual winners and larger teams was introduced. The event was created and heavily funded by the regional government and town halls making it a highly attractive race for international amateur riders to take part. In 2016 riders of 33 nationalities took part. More >

Descenso Bull Bikes - Sierra Nevada
The race took place on 28th and 29th of June in 2018, winning the race Luis Zarco. After 12 years this annual competition returned to the Sierra Nevada ski station, the circuit where the world championship took place in 2000, with a few modifications. Starting in Borreguiles, and a finishing in Pueblo de Pradollano near the Ski Station. In 1960 about 200 riders took part. In 2019 it will take place on 29th and 30th of June.
Huelva Extrema
The fourth edition of
Huelva Extrema 2016
race took place on 23rd April 2016. There were 2,000 cyclists taking part which is a testament to the year on year success of this race. The first edition in 2013 was won by José Carlos Macías from Huelva and about 100 took part. The second edition in 2014 was won by Javier Ramírez Abeja from Seville. In 2015 Francisco Javier Macías won ahead of the other 1.400 participants. The tradition start has been the village of Santa Ana la Real.
The 2016 edition the start was the village of Almonaster la Real. The race was be over a 175 km track with 2.600 metros de climb. The route passed through Jabugo, Castaño del Robledo, Santa Ana la Real, Almonaster la Real (again), El Campillo, Zalamea la Real, Calañas, Villanueva de las Cruces, Alosno, Tharsis, San Bartolomé de la Torre, Gibraleón, Cartaya to arrive at the coastal town of Punta Umbría.

The date for 5th edition of Huelva Extrema 2017 was Sun 30th April 2017. The route was very similar to 2016 and limited to 1.500 compeditors.
The 6th edition took place on 14th April 2018. The route was 202 km and the winner was Adam Carlson.
On 27th April 2019 the 7th edition was celebrated. Jose Márquez Granados won the 187 km race. The route passed through Higuera de la Sierra, Linares de la Sierra, Campofrío, Nerva, Minas de Riotinto, Campillo, Bonares, Lucena del Puerto, Moguer and Palos de la Frontera.
CORTES NATURALEZA EXTREMA
This is a non-competitive race, also known as CNX, that takes place in the mountainous surroundings of Cortes de la Frontera, a pueblo blanco. The strarting point is "Parque Las Camaretas" in Cortes de la Frontera and takes riders up and down varied terrain required the upmost physical strength, through Sierra de Grazalema Natural Park and Los Alcornocales Natural Park. The route is typically 67 km long with an accumulated climb of 1,850 m. Up to 700 riders take part.
In 2019 (X Edition) it will take place on the 25th of May, starting the race at 9.30 hrs. The 2013 edition of the race took place on the 27th April 2013. There were no 2014, 2015 or 2016 editions. It used to be called CORTES 60.
The entrance fee is 35€ and subscriptions close about three weeks before the race. More info in Spanish at https://ciclismocortes.es/informacion-general/
Search Hotels in Andalucia