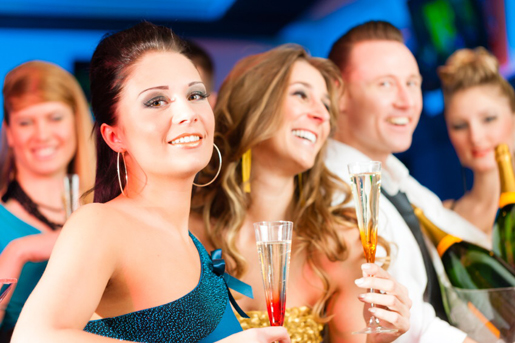 Puerto Banus is renowned for its glamourous bars and clubs.
Marbella is one of the most famous places in Europe for its glamorous nightlife scene, however, many of the most exclusive venues can be found in Puerto Banus. Although Puerto Banus is in no way tranquil by day, it definitely comes alive at night, especially during the summer months, with both a local and tourist crowd. The club-going crowd here tends to dress up in their most glamorous outfits and highest heels. Don't be surprised if you see a reality TV star or two dancing the night away!
The majority of the bars are located along Calle Ribera and along the second line, open until late at night. There are also several other clubs in other locations: TIBU in Plaza Antonio Banderas, Pangea at the end of the marina next to the tower and Sleek and Aqwa Mist which are just on the other side of the Autovia Mediterraneo.
Discos & Clubs
Cavalli Club
Seven
formally Sleek, Dreamers & China White by Dreamers, is Puerto Banus' largest VIP nightclub with a 1500 capacity. More >
Seven is situated on the second line and has evolved into one of the port's most exclusive and elegant clubs. More >

Scream
TIBU
Situated in the heart of Puerto Banus, this club is a must for lovers of loud music. More >
Disco TIBU, Puerto Banus is situated on Plaza Antonio Banderas, overlooking the square. More >
Pangea
Aqwa Mist
Enjoying an unbeatable location at the swanky end of Puerto Banus where the big boats are, Pangea is one of the most luxurious clubs in the port. More >
A sophisticated nightclub known for its luxury: enter the club underneath a waterfall! More >
Bars & Music Bars
Lineker's
O'Grady's Pub
Situated on the second line New Town Puerto Banus, Linekers is one of the most famous bars in the port. More >
Bustling Irish bar popular with young locals and tourists. More >

Old Joy's Pìano Bar
Salduba Pub
One of the longest established and popular pubs in Puerto Banus. More >
Located in the corner of the marina on the front line. Laid-back with plenty of tables to sip a drink and people watch. More >
Sinatra's Bar
Astral Cocktail Bar
Small, very popular bar at entrance to the port with pulsating music and groovy crowd. More >

Open since 2002, you can't miss this cocktail bar in a pirate ship! More >

La Sala


Located near the bullring, this a perfect location for a drink with friends, or a pre-bar for Aqwa Mist club. More >


Casino
Casino Nueva Andalucia, Andalucia Plaza Hotel
Vast casino. Live show during the summer. Part of the Andalucia Plaza Hotel. Open Monday to Thursday 8pm to 4am and Friday and Saturday 8pm - 5am. Roulette, blackjack and poker, plus a bar and restaurant in which to celebrate - or not. Don't forget your passport and dress quasi-formal or you won't get in. Art exhibitions held regularly all year. Don't miss their inaguration parties. More>
Search Hotels in Puerto Banus