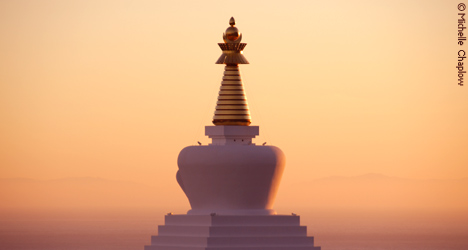 The Benalmádena stupa stands as a symbol of world peace.
Benalmadena Stupa
The Benalmádena stupa was designed to be the largest Buddhist stupa in the western world. The story behind the stupa goes back to 1990 when a Buddhist master came to Spain to give talks to the faithful in Vélez-Málaga. In Vélez, there is a Buddhist meditation centre.
Four years later, Lopon Tsechu Rinpoche decided to return to Spain and build a stupa in Vélez Málaga, where he had given his talks. His idea was to give the area a monument that would symbolize peace and prosperity for Spain.
As time passed, Rinpoche's relationship with Spain grew and he eventually decided to obtain residency here so he could spend more time sharing his teachings with people across the country.
At some point Rinpoche met the mayor of Benalmádena, Enrique Bolín and shared with him his idea of building the largest stupa in the western world, right in Benalmádena. In the year 2003 the building was finished and inaugurated in a fine ceremony featuring monks dancing in traditional dress. Now the building stands as a symbol of world peace, perched high in the hills above the Benalmádena coast. It can be seen from the N-340 motorway as you drive past Benalmádena.