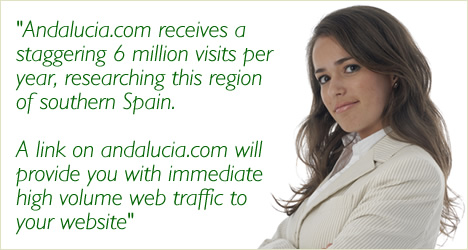 Andalucia.com has just launched its "Online Advertising" programme. Buy your advertising securely and directly online now!
Read the interview with Jose Amos, Andalucian entrepreneur
WHY ADVERTISE WITH US?

Andalucia.com was created in 1996 and during that time we have helped thousands of businesses promote their products worldwide.

Andalucia.com is the market leader in its field; no other English language website about Southern Spain can match our high volume of unique visitors.
Download our media pack here.
Yes, I would like to buy advertising how do I proceed?

Fill in this simple form with secure on-line payment. Once we agree on your link text, your contract begins, giving you exposure to the world 24 hours a day, 365 days a year!
Number and price of links
1 link 295€ + IVA
2 links 525€ + IVA
3 links 735€ + IVA