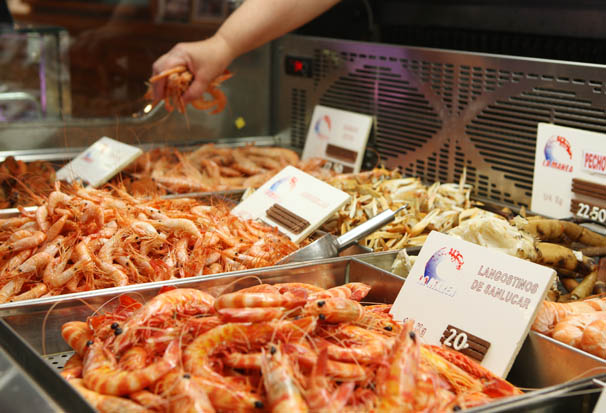 La Marea © Michelle Chaplow
Cadiz - Restaurants
Many of the city's most reasonably priced, traditional restaurants are located in and around the Plaza Juan de Dios, just in from the port and where there is a tight mass of alleyways crammed with bars and restaurants. Many restaurants here offer spectacular seafood dishes, given the abundance of fresh fish that is available in the city. There are also many tapas bars in Cadiz, offering delightful tapas creations with a drink of your choice.
The restaurants listed below come highly recommended. Many of them have a deep history which shows in the quality of their food, using the old recipes to create new, innovative cuisine. Enjoy.

El Faro
This famous seafood restaurant lies in the La Viña district, near the San Sebastián castle. It has a long history and is well-known for its exquisite seafood dishes. Enjoy a glass of local white wine with battered fish or shellfish or the unbeatable shrimp omelettes.
Calle San Felix 15. Cádiz. Tel: +34 956 211 068. Map

Ventorillo del Chato
A former staging post, built in 1780, this restaurant was frequently visited by King Fernando VII. According to historical documents, this place introduced the typical spanish appetiser that we call "Tapas". Closed Sunday evenings, but during August. Kitchen open for Lunch & Dinner. Parking available. Ctra. Cádiz (Av. Augusta Julia s/n0 - San Fernando, Km. 684. Cádiz. Tel: +34 956 250 025. Map

Méson Cumbres Mayores
Specializing in meats, this restaurant offers delicious grilled steaks and succulent lamb chops. Cold meats are also a popular option here as they are of a very high quality. Expect traditional, rustic Spanish decoration and a nice bar. Open for Lunch & Dinner until 11,3pm
Calle Zorrilla, 4, 11004. Cádiz. Tel: +34 856 072 242.

La Marea
With a terrace giving unrivalled views of Playa Victoria, this restaurant specializes in fish and shellfish dishes and rices. And specialized in red atun form Almadraba too. Allergens Menu. Enjoy some fried cod or some speciality shrimp accompanied with a glass of wine or a beer. c.c.´s accepted. Kitchen closed at 4,30pm and 11,30pm. Open everyday for Lunch & Dinner.
Paseo Marítimo, 1, 11010. Cádiz. Tel: +34 956 280 347.
Tapas Bars in Cádiz
As well as the many restaurants in Cádiz, there are also a number of smaller tapas bars, perfect for a quick bite to eat and drink. These places serve small dishes at the bar and often provide one free tapas with every round of drinks ordered. Expect to stand and eat if the bar is busy, or perch on a stool and enjoy your food if not!

Calesa 15/01
A popular little tapas bar breeming with personality and charm, La Calesa 15/01 serves everything from seafood to meat and salads with immaculate presentation. Opened 8 to 4pm and 8 to 11pm
Calle Santa Elena, 1, 11006. Cádiz
Tel: +34 626 467 154.