Search Hotels Near tHE aLHAMBRA
Alhambra Tickets and Tours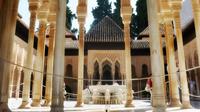 Read our detailed page on how to purchase you Alhambra tickets. We also present a hand picked selection of Alhambra tours with and without hotel pick up. Tickets and tours are fully booked most of the year. If fully booked, purchase a Granada Card which usually has availability.
Useful Links
Mifi Rental in Spain - Prepaid Wifi - Easymifi
Unlimited internet wherever you go from € 6,99/day. Prepaid portable Wifi Rental - Up to 10 devices – Delivery and return at hotel, apartment, airports (Madrid and Barcelona), villa...
Escuela Montalbán
We offer Spanish courses in Granada since 1986; our school is accredited by the Instituto Cervantes and a member of TANDEM International