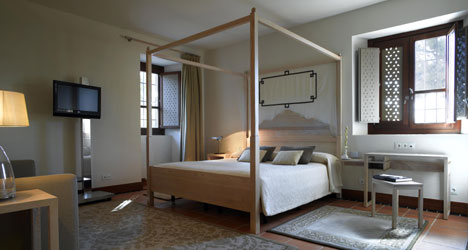 What's it like?
The Granada Parador, also known as the Parador de San Francisco, has an enviable setting: it is located inside the world-famous Alhambra. Formerly a monastery, this beautiful, historic building with heavy studded wooden doors, leafy patios and arcaded courtyards is an ideal base for exploring the celebrated fortress, and is the closest hotel to the main attraction of the Alhambra: the exquisite Nasrid Palaces.
This Parador underwent a major refurbishment, reopning in 2008: rooms now have contemporary decor - simple modern furniture in chic neutral shades, accented with brightly-coloured cushions or armchairs upholstered in bold patterns. The traditional feel is maintained with wooden floors and latticed shutters, as well as pieces of antique furniture in the public areas. There's free WIFI, and TV offers satellite channels. Some of the 40 rooms and suites have four-poster beds, but the room to book is 304, a duplex whose bedroom is in the watchtower, offering views of the Generalife, Alberca, the Sierra Nevada, La Vega de Granada, as well as the Alhambra itself.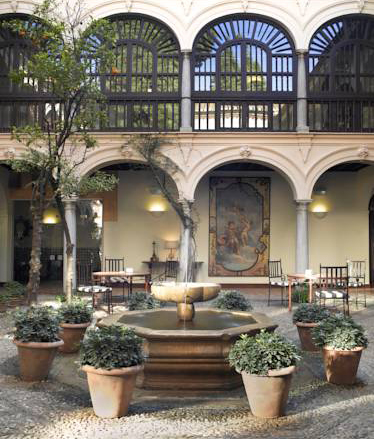 Parador de Granada
What's its history?
The Parador used to be a Franciscan convent - it was built in the 15th century, by order of the Catholic Kings, Isabella and Ferdinand, over the remains of a Nasrid Palace - although, thankfully, some of this still remains. The Parador even has its own museum.
What is there to do?
You are within the precinct of the Alhambra - so even if you've already been, you may be able to get a last-minute ticket when the kiosk at the entrance opens in the morning, for a return visit - or you can get a less expensive garden-only ticket. If you want to buy your ticket in advance, which is a safer bet as daily visitor numbers are limited, you have several options. Even better, at night when all the tourists have left, you can wander round on your own. This is the ideal place for a romantic stay.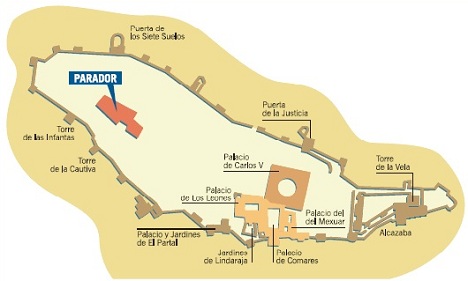 How to get there
By car: avoid driving through the city centre, and instead take the Circunvalacion (Ring Road), exiting at Salida 132, signposted Motril, Sierra Nevada and Alhambra. You will find the Parador at the end of the Calle Real de la Alhambra; it has its own car park, which is handy if you want to take a trip out of the city under your own steam. Otherwise, train, bus or plane to Granada, and then a taxi. There is also a very frequent and efficient shuttle bus service from the city centre to the Alhambra.

View Parador de Granada in a larger map