Granada Metro
The Granada 16km-line crosses Granada from north to southand also connects the towns of Albolote and Maracena(north-east), and Armilla (south-east). The line serves 26 stations in total, of which just three - Méndez Núñez, Recogidas, and Alcázar del Genil -are located underground in central Granada,close to the river Genil.
Granada's new metro system finally opened, after many years of construction delays, in September 2017. It is the third in Metro in Andalucia, after Seville and Malaga.
Stations of the Granada Metro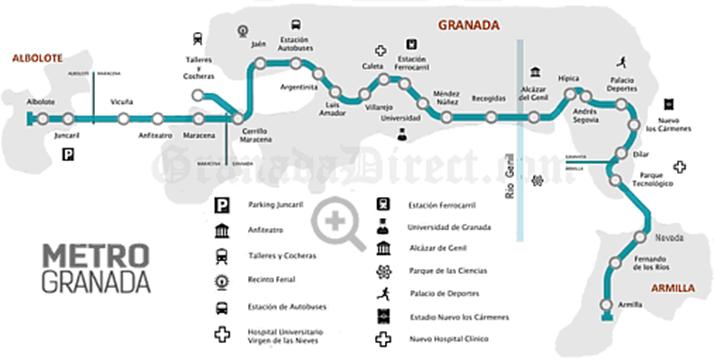 These are the stations served by the Granada Metro (north to south):
Albolote:
Albolote, Polígono Juncaril
Maracena:
Vicuña, Anfiteatro, Maracena
Granada:
Cerrillo MaracenaCtra. de Jaén, Estación de Autobuses, Argentinita, Luis Amador, Villarejo, la Caleta, Estación de Trenes, Universidad, Méndez Núñez, Recogidas, Alcázar del Genil, Hípica, Andrés Segovia, Palacio de Deportes, Estadio Los Cármenes, Dílar
Armilla:
Parque Tecnológico, Centro Comercial Nevada, Fernando de los Ríos, Armilla.
The Metro serves an estimated 133,000 people who live within 500m of a station. In the first year (2017/18) it is estimated that 11m people will use the service, rising to 13m in the third year (2019/2020).
Running times and frequency
Monday to Thursday: 6.30am to 11pm
Friday and days before a holiday: 6.30am to 2am
Saturday: 7.30am to2am
Sunday and holidays: 7.30am to 11pm
Frequency is as follows:
Monday to Friday 7.30am-9.30am, Monday to Sunday 9.30am to 8.30pm: every 10 minutes
Friday and Saturday 11pm-2am: every 30 minutes
At other times: every 15 minutes
The total travel time between the two termini, Albolote and Armilla, is 47 minutes.
Each of the 15 trains has a capacity for 220 people; they are equipped with air-conditioning and video surveillance cameras.
The average speed, which includes 20-second stops at metro stations, is approximately 20 km/hour, with speeds of 50km/h above ground (83% of the line is above ground, with 17% below ground).
Ticket cost
One-day tourist card
This is the most useful card for visitors to the city: for 4,50 euros you can travel as much as you want during one day (there are also options for 2, 3 and 5 days, with the proportional price).
A single ticke tcosts 1,35 euros, return ticket 2,70 euros.
With a rechargeable pass (bono), each journey costs just 0,82 euros. You can recharge from a minimum of 5 euros, up to 50 euros.
There are no pricing zones - one journey costs the same price however far you travel on the line.
More info here.