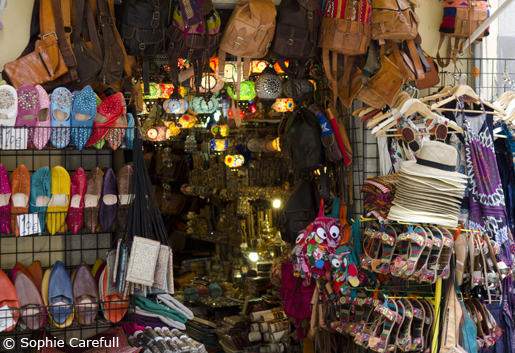 Colourful fares in a Granada gift shop.
shopping in granada
by Sophie Carefull
Most of the main high street names- Zara, Pull and Bear, H&M- can be found on Calle Reyes Católicos, which is perpendicular with Gran Vía de Colón. There are also several stores on the adjoining Calle Recogidas. If you are looking for more unique pieces then don't miss the individual boutiques in the the quaint old streets of the city's historic quarter, particularly the Alcaiceria or Great Bazaar. This was once a thriving silk market founded in the 15th Century, sadly lost to fire in the 19th and rebuilt shortly afterwards in a Neo-Moorish style. Available for purchase today are all manner of clothes, accessories and home decor items, with a lot of leather products and gifts that are reminiscent of Granada's Moorish history.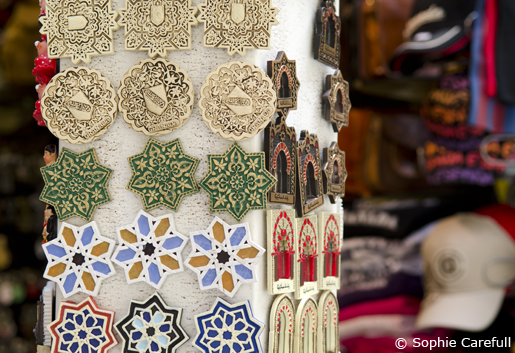 Moorish magnets and coloured caps in a souvenir shop.
More cool granada shopping venues, markets, Hams & rich dark chocolates........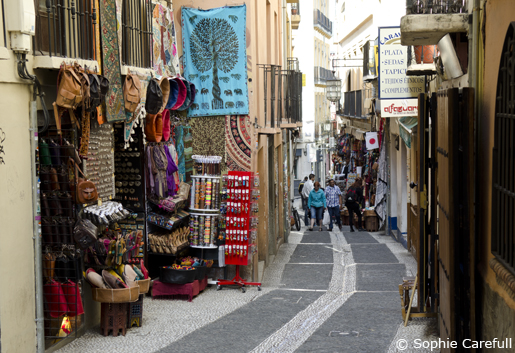 Browse for souvenirs and enjoy delicious tea on Calderería Nueva street.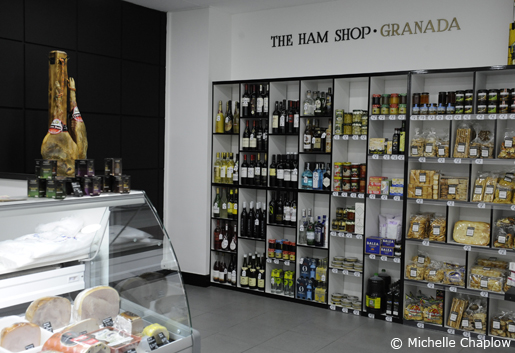 If you get hungry while shopping for souvenirs, pay a visit to the Ham Shop!
Ibérica: The Ham Shop
This newly opened shop specialises in jamón ibérico - delicious cured ham, typical in Andalucia. They also stock a selection of regional wines as well as delicatessen products and some conserves, all to be enjoyed with the star product, jamón jamón!
Carrera de la Virgen, 27, 18009 Granada. Tel: 958073894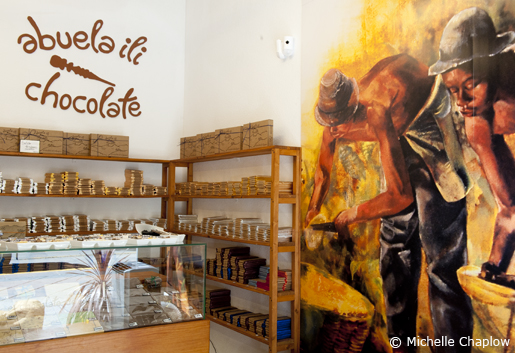 A whole shop dedicated to delicious chocolate.
Abuela Ili Chocolate
Specialist chocolate shop from Alpujarra company selling unusual delights such as white chocolate with blueberries, fig and almond dark chocolate and rum and raisin milk chocolate. Definitely a must for those with a sweet tooth!
Carrera de la Virgen, 50, 18008 Granada. Tel: 651745362
Clothes Shops

Bershka
High street prices for up-to-the-minute trends, beware of small sizing. Calle Recogidas, 10 Granada Tel: 958 25 53 16
Blanco
Womenswear for the young and fashion conscious, afforable prices. Calle Recogidas, 14, 18002 Granada Tel: 958 25 74 49
Calzedonia
Specialising in ladies' socks and hosiery, this shop also stocks women's swimwear. Calle Recogidas, 22, 18002 Granada Tel: 958 52 30 99
Cortefiel
Great high-street fashion outlet with original styles for men and women. Calle Gran Vía de Colón, 1, 18001 Granada Tel: 958 22 35 47.
H&M
Cheap and cheerful on-trend mens and womenswear. Calle Reyes Católicos, 25, 18012 Granada Tel: 901 12 00 84
Mango
Smart and sleek womenswear at high street prices. Calle Recogidas, 11 Granada Tel: 958 25 14 84
Massimo Dutti
Italian fashion house offers men's and women's fashion. Calle Recogidas, 22 Granada Tel: 958 25 15 58
Pull & Bear Clothing Company
Smart casual wear for men and women at affordable prices. Calle Reyes Católicos, 26, 18009 Granada Tel: 958 22 44 19
Springfield
A Spanish company specialising in men's and women's fashion. Good quality and value for money. Calle Mesones, 15 Granada Tel: 958 26 11 77
Zara
Fashion for men, women and children with a designer feel, but at high-street prices. Calle Reyes Católicos, 4 Granada Tel: 958 21 66 38