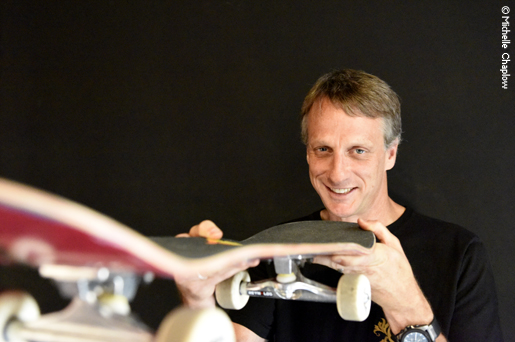 An interview with Tony Hawk © Michelle Chaplow
Tony Hawk Interview at Skatepark Málaga
World-renowned skateboarder, Tony Hawk, and his team from Birdhouse Skateboards, put on a spectacular show at Skatepark Málaga Rubén Alcántara on Sunday 19 July 2015, as part of their European tour, Birdhouse European Vacation.
Hawk's appearance at the skatepark was met by a vast and enthusiastic young crowd, with many of the 1,500 fans queuing for eight hours in the searing heat to catch a glimpse of Tony's performance alongside his team of professional skaters.
The team, all hailing from the United States, are well-known in the skating world, and included Aaron 'Jaws' Homoki, Ben Raybourn, Clint Walker, Lizzie Armanto, David Loy, Clive Dixon, Kevin Staab, Mike Davis and Shawn Hale. Hawk has been skating professionally since the age of 14 - he is now 47 years old.
Andalucia.com: Hi Tony, it's a pleasure to have you here. Have you been out anywhere in Málaga? We saw you were at the beach this morning.
TH: We got in late last night. We went to a traditional Spanish restaurant - I can't remember the name, but it was excellent. We went to the beach this morning for a little bit and then the boys went out street skating for a bit and then came straight here.

AC: What did you think of the Málaga beach? We know you've got some fantastic beaches in California!
TH: I thought it was beautiful - I'm more used to surfing beaches, but we loved it. It's amazing and a perfect vacation destination.

AC: How did you hear about the Málaga skatepark?
TH: We were planning our tour routing for Europe, and we wanted to hit the south of Spain. We surveyed all the parks, and Málaga seemed like the most appropriate for our stop. We were excited to bring the team to a new place. We like to do tours, but in places we haven´t been to before, and every time we come to Spain we get a great crowd, so this is a perfect choice.

AC: What other destinations have you got lined up for this summer?
TH: Well, we were in Somerset, UK, we were in Copenhagen, Paris, here, and then we're going to Munich tomorrow, and then to Prague.

AC: We've read that in your new video game, Pro Skater 5, your son is going to be a character? Are you proud, as his father, to see him in your game?
TH: Yeah - it's exciting! I honestly didn't think he would want to do it, because the request came from the gaming community, not from me personally - because he likes to do his own projects and kind of shies away from everything I'm involved with - but he wanted to do it, so I was excited.

AC: Are you going to be bringing back any special characters like Darth Maul, for example, that were so popular in your older games?
TH: There are a few special characters, yes! There have been a lot of requests for Spiderman, but unfortunately no Spiderman.

AC: How involved have you been in the process of creating Pro Skater 5?
TH: When we do a game, I´m there all along - I´m playing it as they develop it, so I have a test unit, and then I download the latest build every week or so and make suggestions. It´s hard when I travel, so when I come home I play a lot, and I drive them crazy because I make so many suggestions! But I'm there every step of the way.

AC: What was going through your head when you landed that first 900? (a trick where the board rotates 900°, or two and a half spins - Hawk was the first-ever skater to perform a 900 in a competition).
TH: It was just like, "Finally! I never have to try that again!" I had struggled with it for almost ten years of my life, trying off and on, and had pretty much given up on it up until that day so, for me, it was a huge relief. I had no idea it would be such a big deal to the outside community of skateboarding.

AC: We´ve heard you say before that skateboarding has a huge number of other benefits. What do you think skateboarding teaches you?
TH: I started skateboarding at around age 10, and enjoyed the artistic aspect of it as much as the sporting aspect, so for me it was more of an art form and a lifestyle. There were so many things associated with it in terms of music and fashion, and a different way of thinking that, for me, skateboarding represented so much of what I wanted to do with my life at an early age. I played team sports, but I never felt like I fitted in that well, so this allowed me to be part of a community but to do it in my own way.

AC: In 2002 you founded the 'Tony Hawk Foundation' - was encouraging that sense of community an important part of the reason why you started up the foundation?
TH: The idea behind the Foundation is to empower people in communities that are trying get something going for skateboarding, and give people the tools, and help them believe in themselves.

AC: You've been named by 'Transworld Skateboarding' magazine as the second-most influential skateboarder of all time. With the kind of influence you have, what sort of legacy do you hope to leave on the sport?
TH: Honestly, all I care about is that people remember me as a good skater, as someone who was innovative. Beyond that, I'm proud that I was able to use my recognition to, maybe, raise the awareness of skateboarding and help grow it, and to help fund public skateparks. That's the legacy, just trying to grow the entire sport.

AC: So, for you, skateboarding and sport in general are worth encouraging in children?
TH: Yeah, I think skateboarding is hugely challenging - it teaches you self-confidence, it teaches you self-motivation, and it can be something that helps you throughout your life.

AC: Do you think that in 10 years' time people will still be talking about the day you came to Málaga?
TH: Well, that's not the initial intention of being here, but if the fact that we've come here, and somehow given our approval or created some excitement resonates, then we're happy. Really, the goal of being here is to bring some professional skating to an area that maybe doesn't see it very often, and to inspire kids, and if that carries on to future generations then we're happy. But it's more about being here today and doing what we do best.
Video of the Tony Hawk interview