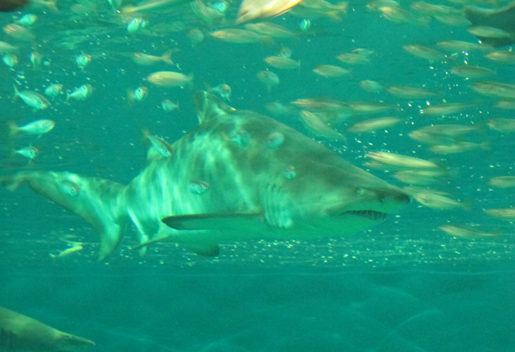 Shark tank at the aquarium (el tanque del tiburon)
Seville Aquarium
Seville's aquarium opened in September 2014. With a budget of over 8 million euros, and 35 tanks, the aquarium has around 7000 sea creatures and reptiles, and over 400 species.
The star attractions are two bull sharks, in a huge nine-metre-deep tank with a glass tunnel you can walk through.
The aquarium is themed around the voyage of Ferdinand Magellan, 1519-1522, which was the first ever circumnavigation of the globe. Your journey will take you from the Guadalquivir river, across the Atlantic Ocean, up the Amazon and over to the Pacific.
Among the many areas are Toca Toca (Touch Touch), where you can touch typical rock pool residents such as sea cucumbers, starfish and sea urchins; and Los Bebes del Acuario (the nursery) with its mermaid's purses and eggs clinging to aquatic plants. Each tank has an LCD panel with information about the different inhabitants of the tank.
The two female sharks are housed in a vast tank, accompanied by grouper, mackerel and tuna. As well as the tunnel, you can see the tank's inhabitants through various windows at different levels.
The coral reef tanks feature colourful tropical fish, with brilliant blue and yellow markings. Strange-looking species include puffer fish and pipe fish. In addition to all the fish you can see, there are reptiles such as tortoises, anacondas, boas, caimans, tree frogs, and sea turtles. Other sea creatures including squid, giant octopus, and spider crabs.

You can also see educational panels on the dangers posed by litter to sea creatures, looking after our environment, climate change, global warming, and water conservation. Guided tours and school activities are offered, as well as "Sleeping with Sharks" – with you tucked up in your sleeping bag, separated by glass, obviously, rather than snuggled up next to.
A shop offering the typical fish-themed toys will delight the kids, and there's also a café for that essential caffeine-kick.
price
Entrance: adults 15 euros, children, disabled and OAPs 10 euros.

opening hours
1 January - 28 February
Mon-Thurs: 10:00 - 19:00 Fri - Sun 10:00 a 21:00
1 March – 31 August
Mon-Thurs: 10:00 - 20:00 Fri - Sun: 10:00 - 22:00
1 September - 31 October
Mon-Thurs: 10:00 - 20:00 Fri - Sun: 10:00 - 21:00
1 November – 31 December
Mon - Thurs: 10:00 - 19:00 Fri - Sun: 10:00 - 21:00
HOW DO I GET THERE?
Acuario de Sevilla, Calle Luis Montoro (Muelle de las Delicias), Sevilla (entrance at corner of Avenida de las Razas and Avenida Molini. Tel 955 44 15 41
Car parking available.