Cooking Courses in Andalucia
There are few better ways to learn about Andalucia than through its food, with all the fabuous local produce available, from the Sierra de Huelva's pure-bred acorn-fed free-range pork (cerdo iberico, which is made into the famous jamon iberico) to the unparalleled selection of mariscos (seafood) on the Costa de la Luz, salmorejo (thick cold tomato soup) from Cordoba, wild mushrooms in the Sierra de Grazalema, olive oil from Jaen, and the superb fruit and vegetables grown throughout the region
However, Andalucian regional cuisine - every town and village has its own special dishes - is not the only kind you can learn about in this region. In addition to wonderful opportunities to cook Spanish food, other courses offer introductions to cuisines from around the world, such as Moroccan - just a few kilmoetres away across the Straits of Gibraltar.
You can find many excellent culinary programmes all around Andalucia, particularly on the Costa del Sol, in Malaga, around Aracena in the Sierra de Huelva, and in Vejer de la Frontera. These cooking holidays also attract students and professionals chefs from around the world. Typical dishes you will learn how to make might be sea bream baked in salt, baked pork or aubergines with syrup.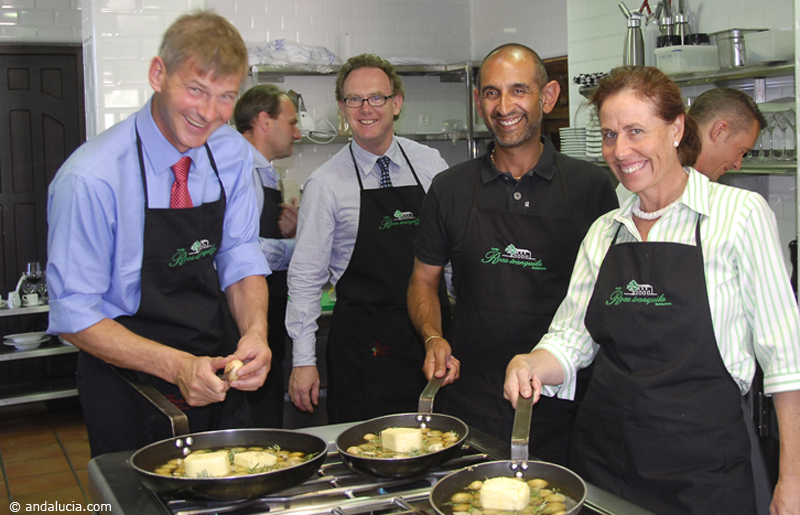 Spanish cooking holidays attract everyone from first time foodies to professionals chefs.

Travellers to Andalucia who are here for general holidays may also want to take advantage of time spent in this region to learn to cook local dishes on one-day courses.
And don't forget that in addition to all the wonderful stews, salads, meat, fish and vegetable dishes, Andalucia has some superb wines - sherry from Jerez, young red wines from the Sierra de Ronda, and the Malaga sweet (and some dry) moscatel wines.
Some language schools will also be able to point you in the direction of the nearest Spanish cooking class.
For some authentic Andalucian recipes, check out Sam and Jeannie Chesterton's Buenvino Cookbook. This Scottish couple have a beautiful, homely hilltop house overlooking the forest in the Sierra de Aracena, where they grow their own produce, and offer delightfully informal and hugely enjoyable cooking courses. Recipes include Moroccan peppered prawns; artichokes with jamon; Iberian black pig with wild mushrooms; kid with red pepper and mint; pear and almond tart; and homemade Seville orange marmalade.