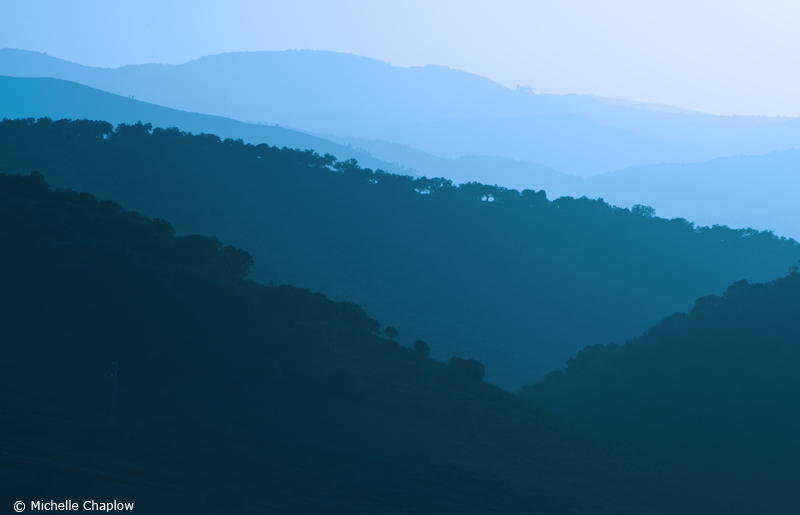 The landscape is full of contrasts, with gently rolling hills and wooded valleys gradually giving way to dramatic rocky outcrops on high peaks
Home | Fauna | Flora | Rivers | Suggested routes | Things to see | Walks
Sierra de Aracena y los Picos de Aroche Natural Park

Accommodation
There is a good choice of places to stay. There are hotels or high-standard hostales in the main towns and villages in the Sierra, as well as cheaper pensiones. Casas rurals (country cottages), in beautiful locations often with a pool.
Hotels
Hotel Convento Aracena
is a restored 17th century convent, now a modern four star hotel located in centre of Aracena just below the Castle.
Bed and Breakfast

Finca Buen Vino is six kilometres west of Aracena towards Fuenteheridos is a charming Bed and Breakfast in a converted farmhouse with cottages for rent, surrounded by acres of chestnut groves and fruit orchards. Near the village of Los Marines.

Cas Vesta is stylish bed and breakfast just on the edge of the village of Zufre in the eastern Sierra de Aracena. It is full of contemporary art with stunning lake views.
Camping
Camping Aracena Sierra
Camping Aroche On N433 at turn-off to Aroche
Camping Cabañas de Cumbers
Camping El Madroñal
Camping Molino de la Rueda On the H3102 between Valdezufre and Puerto Moral is an old water mill (molino), with a campsite.
Granja Escuela El Barrial Nine kilometres from Aracena and just beyond the tiny village of Corterrangel is this campsite with magnificent views. It has a pool, a bar and cabins for rent.