Follow the "andalucia.com estepona bar" interest list of bars and cafes in Estepona active on Facebook.
Cafes in the Old Town

Cafe Real
A favourite place to watch the world go by. (corner of Calle Real and Calle Terraza) On the site of Estepona's first hotel and quaintly known locally as Bar Manicomio (the lunatic asylum!).
Chocolate & Churros
A traditional family-run bar specialising in this delicious Andalusian breakfast of churros (spiral shaped deep fried doughnuts) and hot chocolate for dunking.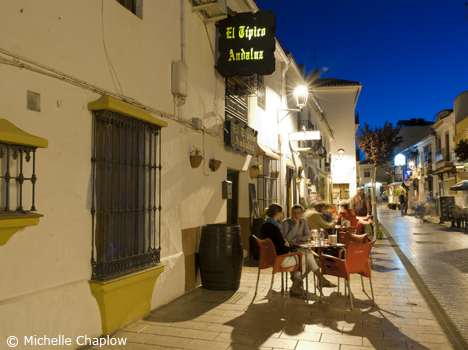 Tapas Bars

El Tipico Andaluz
Located in the heart of the old town centre in Calle Caridad. Try the "Plaza de Toros", a tasty mixture of cold meats, sausages and cheese.
Bar Sureña
Plaza de las Flores. Typical Andalucian tapas. Large terrace.
Meson Cordobes
Plaza de las Flores. Typical Andalucian style.
In the Marina

There is a wide choice of bars and cafés throughout the port at the entrance level and also down on the front line overlooking the marina.
At the entrance level.

To the left Taberna del Puerto offers a selection Andalucia Taps in rustic surrounds.
To the right Visa Versa and Mar are both easy going cafés with snacks all day.

At the lower level on the left
Reinaldos is a 25 year established landmark on the corner for drinks and meeting. Next door cafe and snacks at
Search Hotels in Estepona