Estepona - Restaurants
Estepona has a varied selection of restaurants both in the town itself and in the surrounding areas. In the cobbled streets of the old town you will find many good quality tapas restaurants, serving the very best of authentic, traditional Spanish cuisine, as well as many sit-down restaurants serving both fish and meat dishes, as well as paellas. Stroll around the old town and you will also find a few hidden gems.
The port in Estepona has a great selection of restaurants offering spectacular views over the Mediterranean. There are also Chinese and Indian restaurants here, as well as a fish & chips restaurant serving freshly caught battered cod and much more.
Outside Estepona, in the nearby urbanisations of Benamara, El Pilar and El Paraíso, there are even more restaurants, often located on or next to the beachfront, letting you listen to the waves while you eat.
Listed below are our personal favourite restaurants, chiringuitos and tapas bars in Estepona, Málaga - Enjoy.
Restaurants
Felix Brasserie
You will find Felix Brasserie located in a beautiful Andalusian Patio, serving dishes with a perfect combination of Asian and European gastronomies, resulting in an explosion of flavours, making Brasserie Felix the best Euro-Asian Restaurant of the Costa del Sol.
La Voladilla Baja Ctra de Cádiz, Km 163,50. Estepona
Tel: +34 951 053 661. Map

Las Palmeras
Only a few meters from the shore, Las Palmeras allows its guests to enjoy the sound of the waves whilst enjoying the best of Andalusian cuisine. A wide selection of fish, shellfish and home made desserts to be enjoyed in the surrounding lush gardens.
Voladilla Baja. Ctra. Cádiz km 163,5. Estepona
Tel: +34 951 053 663. Map

11 y 11 Restobar
This restobar offers live music and delicious, authentic food. The menu has a variety of seafood dishes, as well as salads and meat dishes. Located in Estepona port, enjoy views over the Med whilst eating. Wed-Sun Lunch & Dinner.
Puerto Deportivo Local 39 Estepona Port L39. Estepona Book Online with the Fork
Tel: +34 951 703 060.

Casa Del Rey
Located in the pedestrianised, cobbled streets of Estepona old town, this restaurant serves exquisite tapas and has an indoor courtyard where you can eat. There is a huge choice of red and white wines. Expect good things. Lunch & dinner.
Calle Raphael | Next to Plaza de las Flores. Estepona
Tel: +34 951 965 414.

Robbies
A cosy & very popular restaurant with interesting Hollywood Greats. Décor and menu with original dishes using the most of the fresh local produce. Host is always very welcoming and the waiting staff professional. Dinner only. Closed Mondays.
Calle Jubrique, 11. Estepona
Tel: +34 952 802 121.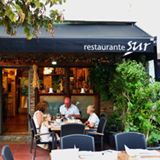 Restaurante Sur
This argentinian grill serves top quality meat dishes, cooked on a charcoal grill. It also does platters and fish dishes. Dinner only. Reservations recommended. Cosy setting.
Plaza Ortiz, 10. Estepona
Tel: +34 952 792 876.

Esquina Del Arte
A bodega offering a fantastic wine list, Esquina del Arte is located in Estepona old town with space outside. Enjoy delicious tapas dishes here. Lunch & dinner, Mon-Sat.
Calle Villa, 8. Estepona
Tel: +34 951 965 718.

Lido
Whether eating al fresco or indoors in the main restaurant, guests are assured of an extraordinary culinary experience, enjoying the innovative Mediterranean Cuisine, as well as the magnificent views over the gardens, the Mediterranean Sea and the Rock of Gibraltar.
Voladilla Baja. Ctra. Cádiz km 163,5. Estepona
Tel: +34 952 809 400. Map

El Cazador
Lunch & Dinner. Mediterranean cuisine. Closed Tuesdays. c.c.'s accepted. A very popular restaurant and great value, large terrace area overlooking the port. Reservations rec.
Puerto Deportivo 14. Estepona.
Tel: +34 952 802 799.

El Carnicero
This restaurant specialises in the finest meats - cooked on a charcoal grill, offering the very best of French and European gastronomy. It also has great seafood.
Av. Marqués del Duero, 29. Cancelada
Tel: +34 952 88 63 07.

El Latino
Spanish, Italian & S. American cuisine - expect good Argentinian asados and Peruvian ceviches. Closed Mondays. c.c.'s accepted. Parking available. Friendly & attractive restaurant with a varied menu.
Centro Comercial Benapilar, 8. Urb. El Pilar. Benavista
Tel: +34 952 883 666.

Restaurant Chilli
Highly recommended, this restaurant serves a mixture of Mexican and Indian cuisines. Good host & service. Lunch & dinner every day. Res recommended.
Calle Isla Verde, 12 | Urb. Dos Hermanas, 29688. Estepona
Tel: +34 952 882 547.
Chiringuitos
Chiringuitos - beach restaurants - are very popular in Estepona. See our page of all Estepona Chiringuitos.

Palm Beach
The best beach bar on the Costa del Sol, Palm Beach is the perfect combination of a nice relaxed beach bar and a good international kitchen. Enjoy a day on our sunbeds and in the evening enjoy the sunset with a nice cocktail and great food. It also organises parties.
Playa de la Rada (junto al Rio La Cala). Estepona
Tel: +34 952 113 556. Map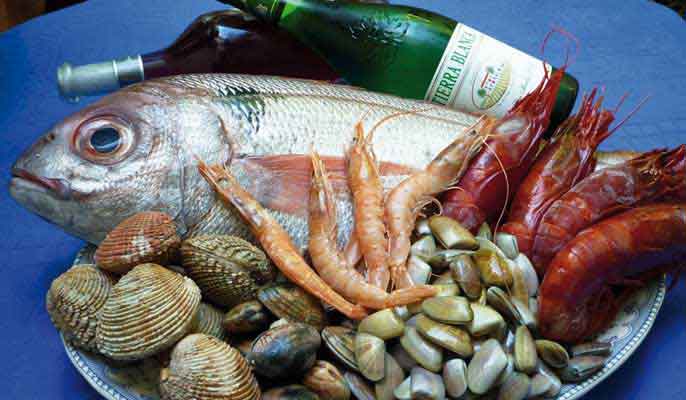 La Peseta
A beach chiringuito offering fresh, barbecued fish and many other seafood dishes. Enjoy a glass of wine on the wooden terrace whilst looking out over the Mediterranean.
Avda España s/n Junto parada de TAXI, 29680. Estepona
Tel: +34 629 563 178.