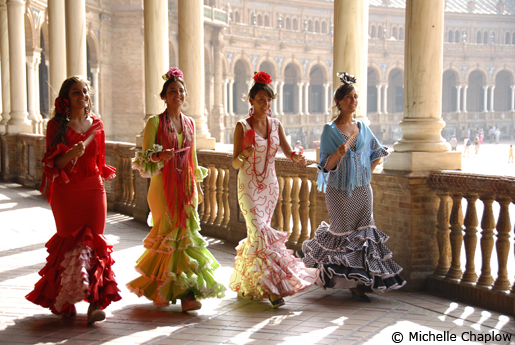 Flamenco outfits are a must for ladies at the Feria.
Seville Spring Feria Dates 2019
4th to 11th May 2019

5 May 00.01 hrs Lights on
11 May 23.59 hrs Fireworks

(Anounced by Mayor in May 2018)
Spring in Seville has a special atmosphere, garlanded with the sweet scent of orange blossom and jasmine, and a frisson of excited anticipation, as the city's two most important events take place - first Semana Santa and then the Spring Fair, the Feria.
When and where does it happen, and what it is?
The Seville Fair traditionally starts two clear weeks after Semana Santa, in a huge area in Los Remedios (map), to the south-west of the city, next to the river. This is a week of serious dancing, drinking, eating and socialising, with late nights - or all-nighters - the norm. The sheer size of the April Fair's spectacle is extraordinary. From around midday until early evening - especially on Tuesday, the first official day - Sevilla society parades around the fairground in carriages or on horseback. There are also daily bullfights , generally considered the best of the season.
Fun and festivity at the Seville fair
What are casetas and what happens in them?
The "Real de la Feria", where the Feria takes place, covers 1.2 km2 and includes the amusement park, `called ´Calle de Infierno' (Hell Street), and the casetas, canvas tent pavillions of varying sizes arranged along 12 streets. Numbering over 1,000, they belong to eminent local families, groups of friends, businesses, clubs, trade associations and political parties. Most of the casetas are private and open only to members and their guests. If you have a Sevillano friend with a caseta, you could be lucky enough to receive a much-coveted invite. Alternatively, there are also seven public casetas - the "caseta municipal" and one for each of six districts of Seville.
Inside the tents the drinks begin to flow, and tapas are served, from around 1:30pm till early next morning. Each caseta is equipped with a bar, kitchen and sound system or live entertainment playing Sevillanas . This is the official genre of folk music in Seville, which has its own set dance. It's worth taking a few classes before the Feria so you don't have to be a wallflower.
As a non-native, pay attention to how the authentic "Sevillanos" (natives of Seville) pace themselves in order to make it full-force right through to the end. Also, a little effort goes a long way - whatever your level of Spanish, make sure you use it (again, why not brush up a little before going, by taking some classes). You´re a guest at their party, so express your appreciation by joining in!
Feria de Abril Special Tour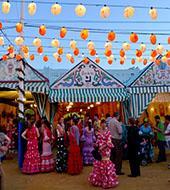 Be surprised by the world famous FERIA DE ABRIL. The annual festival or fair of the Sevillians. We take you to the wonderful world of this special festival with all its legends and traditions. An experience that you simply can not miss if you are in Seville this period. Absolutely not!
Approx. 2hrs - 21 €

Feria de Abril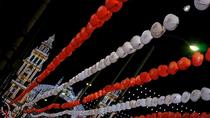 Feria de Abril
Get on our 4-hours Guided Tour to Feria de Abril (April Fair) in Seville. Meet the guide in the city center and have a cool jug of Rebujito at the pub just before you depart to the April Fair - to see many colorful flowering gitana's dresses dance sevillanas!

Feria de Abril Bar Crawl in Seville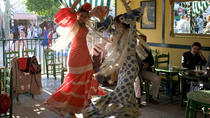 Feria de Abril Bar Crawl in Seville
Enjoy the nightlife of the 'Feria de abril de Sevilla' with this 4 hour guided tour. You will start the tour in the Oasis Palace Bar, initiating the adventure with a first jug of Rebujito, the characteristic drink of the Feria made with Xerez wine and Sprite. Continue to the fair tents for more celebrating.

SEVILLE APRIL FAIR PRIVATE TOUR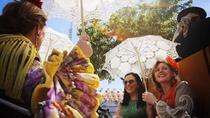 SEVILLE APRIL FAIR PRIVATE TOUR
Enjoy the exclusive private tour for Viator customers at the Feria de Sevilla. Meet the most international Fair where flamenco and fiesta come together in a very peculiar origin. Sevilla dresses up in its big week. We will be picked up at the hotel by horse-drawn carriage to move to the fairgrounds. More than a thousand "booths" where gastronomy and folklore will be waiting for us. We will take a guided tour of the site and end up enjoying the Andalusian cuisine with a good wine from Jerez in a private "booth". At the end we will move to the hotel.

What do people wear, and what should I wear?
Some men, and many women, wear the traditional costume. For men - particularly those on horseback or driving carriages, this is the "traje corto" - or short suit consisting of fitted pants and a short cut jacket with wide-brimmed hat. Women wear the traditional "traje de gitano", literally "gypsy outfits" or flamenco dresses, often in bright colours, and accessorised with matching/coordinating flower in hair, comb, jewellery, tasselled scarf/shawl and fan.
The dresses are pricey, but worth investing in if you'll be coming back again - nothing makes you feel part of an event like being dressed appropriately. For men, unless you have an Arab steed to convey you and are svelte of figure, the traje corto is a less accessible option. Perhaps better a normal suit.
Find about more about the Feria de Sevilla.
Seville Feria Facts
Seville Feria Dress
Learn about the history of the fair, how its dates are determined, and protocol
More >
Flamenco dress styles and colours change every year; even men have a strict dress code for their traditional "traje corte".
More >
Seville Feria Attractions
Seville Feria Reports
"Hell's Road" (Calle del Infierno) is where the kids get their kicks - bumper cars, shooting games, tombolas, rides...
More >
Andalucia Costa del Sol Magazine reports on the Seville Spring Fair
More >
Seville Feria Music and Dancing
Seville Feria Practical Tips
The music, and dancing, of the Feria is called sevillana, and is a type of flamenco
More >
How to get to the Feria de Sevilla, some insider's tips on dress, and upcoming dates
More >
Seville Feria Food & Drinks
Seville Feria Glossary
What does everyone eat and drink at the Feria?
More >
Some important Feria terms so you can sound like a local
More >