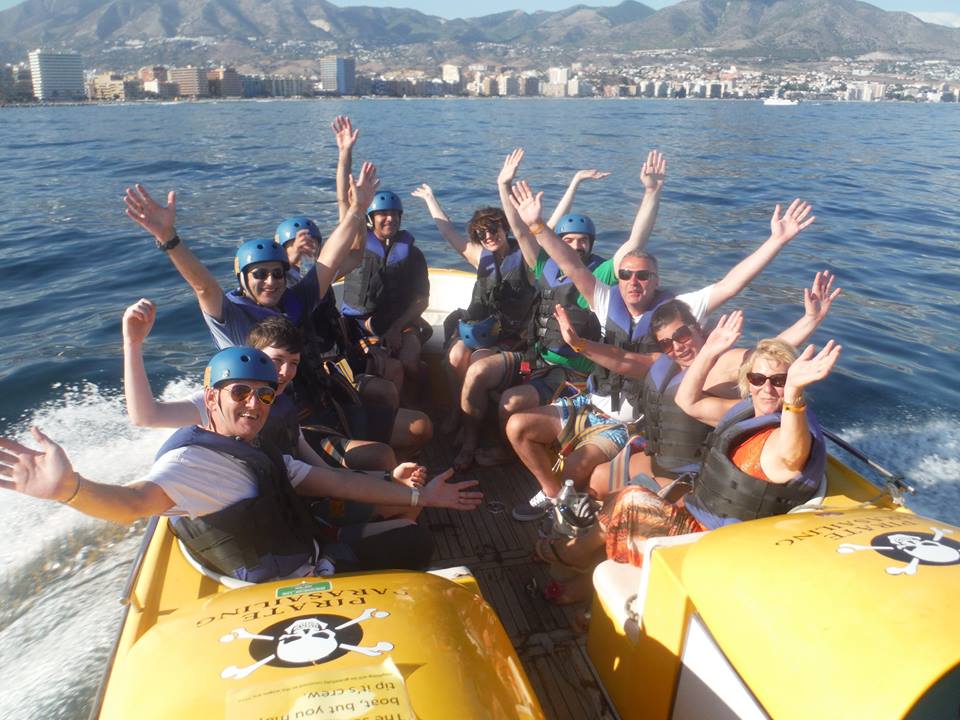 Fun at sea of Fuengirola © Pirate Parasailing Fuengirola
Things to Do IN FUENGIROLA



Parasailing
For the more adventurous thrill seekers, there is parasailing - where you are strapped into a seat which is suspended from a large parachute and carried along which attached to a power boat. If flying along on your own is a bit too much of a challenge, you can fly with a friend and even up to groups of five.
Parasailing rides
Parasailing Fuengirola
Fly with the experts today! Over 22 years experience in watersports British company. Bilingual Staff
Port and Marina
As with most well appointed marinas, the port attracts many observers as well as those active on boats or enjoying water sports. There are many excellent bars, restaurants and clubs, some are open the year round and offer a wonderful setting for lunch, 'tapas', dinner, cocktails or after dark clubbing. Dinner on one of the restaurants' outside terraces with views out across the moored boats onto the horizon of the Mediterranean towards North Africa is a delightful experience. There is a office near the entrance of the port for booking watersport activities.
Visitors are stepping inside a true documentary of the deepest tropical woodlands. More >
Excursiins form Fuengirola to other attractions in Andalucia More >
Fuengirola is a shopper's paradise. In and around the main square there are many designer clothes shops, interesting boutiques. More >
Salon Varietes Theatre in the centre of Fuengirola is the only English speaking theatre in southern Spain. More >
Fuengirola has good municipal sports facilities. More >
GLASS BOTTOM BOAT TRIPS
Two of the most popular options are the trip in the boat with the glass bottom, giving you full view of the dolphins and other very interesting sea life from the safety of the leisure boat.
OTHER LEISURE ACTIVITIES
Dolphin watching yacht,
Boat trips,
Boat trips to Benalmadena Port,
Boats & Yachts International,
Club de Buceo (Scuba Club),
4x4 Jeep excursions,
Quads (racy four wheel quads).
SOULD PARK
Sould Park opened a children's park adjacent to Fuengirola Port on 20th February 2015. This park is over 3000m2 and consists of 15 rides for children to enjoy.
Access to the park is not free and works on a top up card system where the cards are free to obtain and then you can top up as little or as much as you want onto to the card. Sould Park makes for a great day out for the kids.

Opening hours:
Monday - Friday: 17:00 to 21:00 hrs
Saturdays & public holidays: 11:30 to 22:00
Sundays: 11:30 to 21:00
For more information call Sould Park on: + 34 93 845 32 41
Costa Water Park
Off shore water park. Bright Green Yellow and Blue slides and floating rafts. There are three in Fuengirola, one off Carvajal beach, one of Los Boliches and another off Fuengirola beach. Open 11.00 to 20.00 hrs June to Setember. Purchase an armband ftom the Kiosk on the adjacent beach. One hour 10€ and all day 25€ and swim out and join the fun.
Horseriding
Andalucia is famous for its beautiful horses. For the expert or the beginner, there is horse riding at the Rancho El Rengo. As well as riding lessons, there are organised treks around the local countryside and along the dry river bed. The stables also have a bar/restaurant - perfect for the times you have worked up an appetite after a ride. You will find Rancho El Rengo at Ctra. Cerros del Aguila, La Vega, opposite the castle. Tel: 677 086 539.
GOLF
For the keen golfer, Fuengirola is ideal, since it is right in the heart of the Costa del Golf. The golf courses of Mijas are just a few kilometres from Fuengirola.
Skateboard Park
The is a good skateboard park near Miramar shopping centre (or the Castle) west of the river between Calle San Cayetano and Calle Virgin del Rosario. Suitable for both skate boarding and BMX riders. friendly atosphere with good community. Cafe on site.
KARTING
Small track on the roof of the Miramar Shopping Centre.
Mijas Water Park
Parque Aquatico Mijas. Located tecnically in Las Lagunas district of Mijas but any tourits would be forgiven for thinking it was Fuengjrola. Right next to the A-7 coast road as it by-passes Fuengirola. More>
Hipodrome
Actually just over the border in Mijas the Costa del Sol Hipodrome (horse racing venue) has had a checkquered past since it opened in the 1990's. Access is from Fuengirola. west of river head inland oposite the castle on Calle Tramo de Union. Sunday market in the car park. More>
Tourist Train
Lets not forget the Orange tourist (road) train that runs in the summer mornings and evenings. It starts on the front near the port and heads east to Torreblanca before turning round and returning inland all the way for a rest stop by the skateboard park near the Miramar centre before returning to the port. Tickets 8€ (2015) and last all day. Advertised as 'Hop on Hop off' however you would need to advise the driver before you board of any stop requests.