Dolphin Watching from Gibraltar
There are three species of dolphin commonly found in the Bay and Strait of Gibraltar. They are the Common Dolphin, the Striped Dolphin and the larger Bottle-nosed Dolphin. There are numerous dolphin-watching trips on offer and it is not unusual to be able to see these fascinating creatures close up in their natural environment.
Dolphin Watching Excursion Gibraltar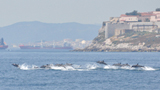 See Gibraltar's dolphins wild and free! Sail The Bay of Gibraltar with Dolphin Adventure for a wild dolphin safari.
From 34 Euro.

Much rarer is the sighting of whales. They do also migrate here including the largest mammal of all, the Blue Whale. However, sadly, such sightings are not common today. For more information on whale watching see our whale watching page.
See also our whale & dolphin home page.