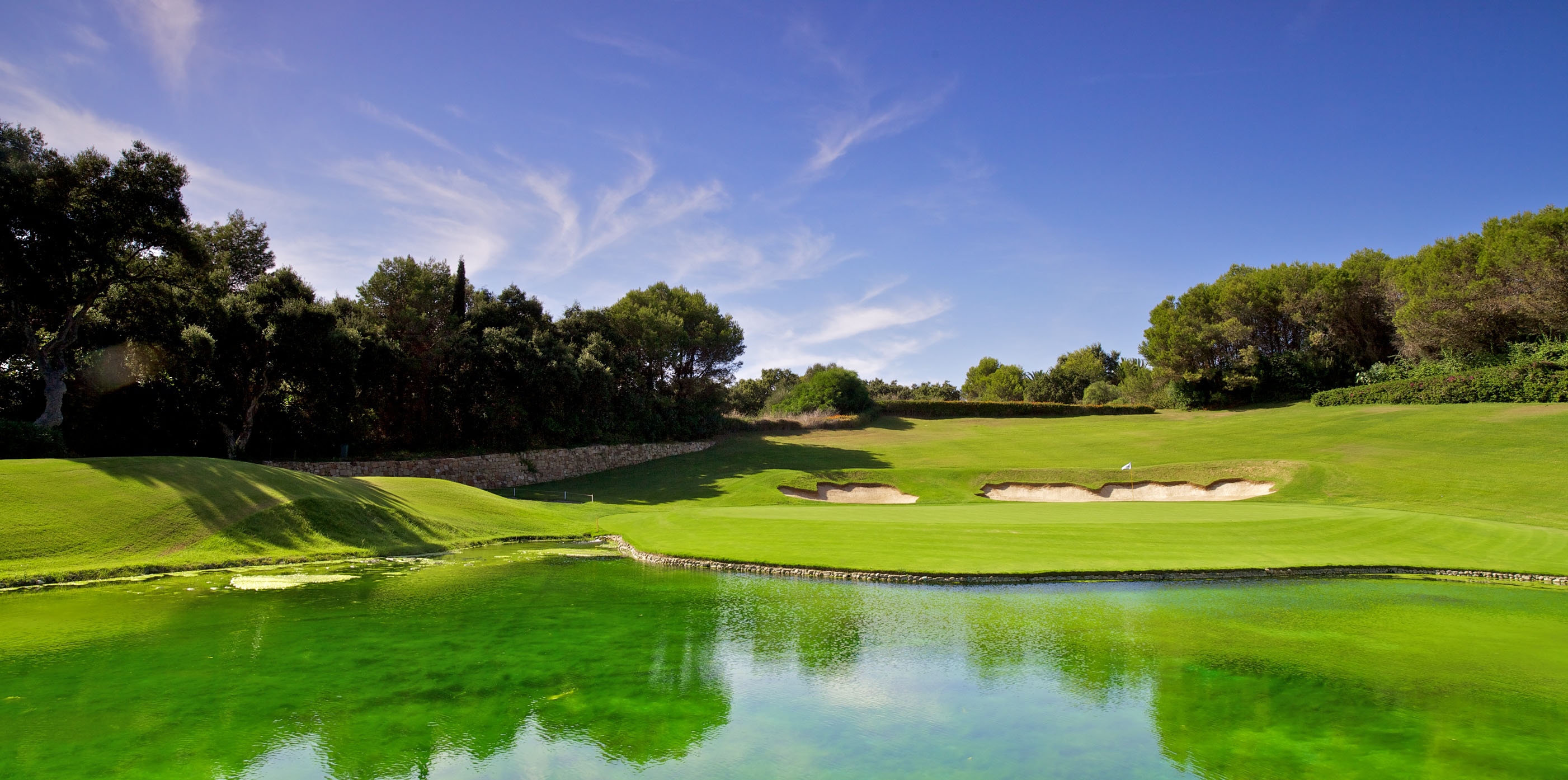 Valderrama Hoyo 17 © Golffoto.es
Sergio Garcia and open de España
Sergio García: "I look forward to a very special Open de España at Real Club Valderrama"
The Spanish star will be the official tournament host through the Sergio García Foundation.
"I have been very lucky in life and I want to help give others the opportunities that I had".
Sergio García will lead the home challenge at the Real Club Valderrama Open de España from April 14-17, and has declared himself "very proud" of hosting the tournament through his Foundation.
Sergio García: "I am really excited to return to Valderrama for a very special Open de España. I have always enjoyed playing in Valderrama, one of my favourite courses. I feel very comfortable there, and after three near-misses I finally did it!"
After three consecutive runner-up spots in the Volvo Masters (2004-2006), he finished 11th in the inaugural Andalucía Masters (2010) and proceeded to win it in 2011. His strategy when negotiating the prestigious Robert Trent Jones layout is simple: "Patience is key in Valderrama. You need to be fully concentrated and keep the errors to the minimum. You must respect this course or it will turn against you at any moment. One of the things I like most is that it allows you to use all the clubs in the bag.
"I have great memories of Valderrama. Winning the Andalucía Masters in 2011 was awesome; it was a very special victory because winning on this course always adds something. I will never forget the third round with Miguel Ángel Jiménez, both playing well under spectacular sunshine with all the public around us. Miguel certainly didn't make it easy for me. He played fantastic all week and forced me to an up-and-down on the last to avoid the extra holes. It was a great pressure moment."
Sergio set up his charitable foundation named after himself in 2002 "for the purpose of contributing to the social inclusion of economically deprived children and youth, through social assistance benefits and the practice of sport as free-time activity."
The following year, the Sergio García Foundation and the Deporte y Desafío Foundation -chaired by Jorge Pérez de Leza- came together with the objective of introducing adaptive golf in Spain, with the support and supervision of the Spanish Golf Federation as well as the Autonomic Federations. They developed together a twofold programme aimed, firstly, at making golf accessible to people with disabilities, thus helping them to be socially integrated. The second aim was to promote adaptive golf throughout the whole of Spain by means of specific training courses directed to golf teaching professionals interested in learning the techniques that enable them to cope with the various disabilities. These professionals ensure the continuity of the initiative.
23 Adaptive Golf Courses were conducted during seven years in Barcelona, Madrid, Castellón, Asturias, Málaga, Mallorca, Sevilla, Las Palmas de Gran Canaria, Pamplona, La Coruña, Cádiz, Salamanca and Tarragona, with the participation of 821 pupils and 321 professionals. From 2010 to 2014, The Sergio García Foundation and the Spanish Golf Federation continued working together for the promotion of adaptive golf by holding an annual course. Thanks to this project, 982 pupils have had access to golf and 445 professionals have been trained.
The Sergio García Foundation supports, on a regular or an occasional basis, a large variety of NGOs and humanitarian associations. "I thank God for having given me a gift for the sport of golf. I have been very fortunate; golf and life have given me a lot and I owe it to society. I wanted to give back, so with the support of my family I decided to start a foundation in order to help disadvantaged persons or people with problems. I have been very lucky in life and I want to help give others the opportunities that I had", adds the Real Club Valderrama Open de España host.
Gonzaga Escauriaza, President of the Royal Spanish Golf Federation: "I am deeply grateful to Sergio García for his contribution to the Open de España at Valderrama. Sergio has proved once again his generosity with golf and with Spain, as exemplified by his commitment to the development of adaptive golf, which has been key to the present success of this category. It is, therefore, a real honour to have the Sergio García Foundation hosting the Open de España."
NEWS UPDATES
Álvaro Quirós and Open de España
Pablo plans on track at Valderrama
Leavy leads first day at Valderrama
Sergio Garcia explains that he is looking forward to the tornament.
Real Club Valderrama a legendry tour Venue
Real Club Valderrama - Facts and Records
Real Club Valderrama - Looks forward to hosting the Open de España.
Andalucia hosts the Spanish open for the 11th time.
Search Hotels in Sotogrande