Caminito del Rey - Future Plans
Visitors Centre
The original declared plan to construct a permanent visitors centre at each access was moved into 'Phase 2' works by the Diputación de Malaga as announced on 2nd Oct 2015 and again 4th April 2016.
On 29th July 2016 Diputación de Malaga as announced that the 1.9m € contract for a 500m2 visitors centre and car park for 200 cars and 17 coaches would start in autumn 2016 and last for six months. These works would also include a small car park and the refurbishment of the visitors centre at El Chorro railway station. The foundation stone for the Ardales visitors centre was laid on 16th February 2017.
Spectacular Waterfall
The other project is to reopen the original hydroelectric overflow spillway to recreate a spectacular 100m waterfall. As part of the 2016 budget of 1.2m € a tunnel and a waterfall was to be added. The 126k € tunnel project was completed in May 2017, making use of sections of the the original tunnel aqueduct sections and includes some view points. This initiative is to keep the path open to visitors during high winds. The is no further news on the waterfall project.
Visit by King Filipe VI
The Diputation de Malaga had hoped that King Filipe VI would follow his great grandfather' footsteps and attend the opening ceremony in 2015. The King has been formally and informally invited to the Caminito de Rey several times since and has replied in conversation, "I know about it and would like to visit it when I can".
Caminito del Rey Tour from Costa del Sol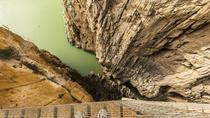 Walk the Caminito del Rey with guide and transport from Costa del Sol. This tour helps you walk the exciting path without any of the logistical complications. Fridays
From Marbella, Torremolinos, Fuengirola and Malaga - 42€

Caminito del Rey - Private Full Day Tour from Malaga or Nerja

Be driven to Caminito del Rey entrance and walk the path. This is a small group guided tour by professional historian along Caminito del Rey, including outward and return transport. You will be collected from south exit for the return transport.
Tuesday to Sundays.
From central Nerja & Malaga - 75 €