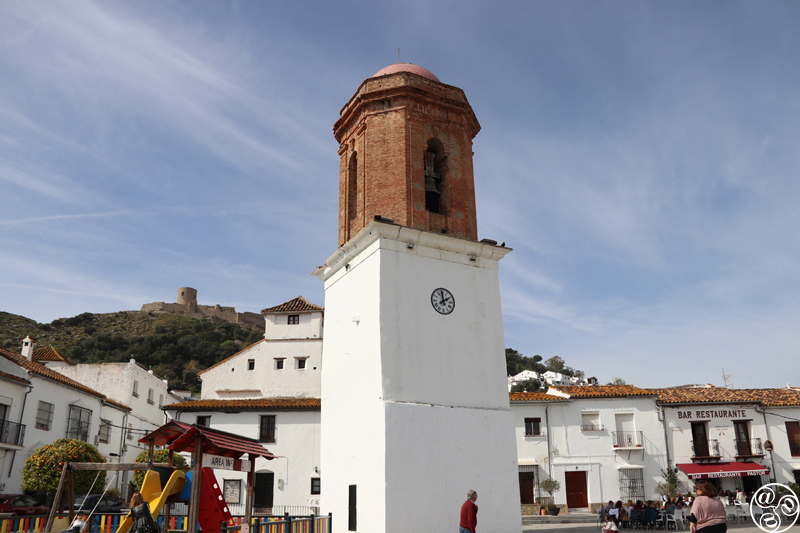 View of the Bell Tower in Plaza de la Constitución, the main village square
Plaza de la Constitución and Bell Tower
Plaza de la Constitución is the main square, and the first area you'll find when you enter the old part of the village of Jimena de la Frontera. Arriving along Avenida de los Deportes, you continue straight to the plaza, where you can park just below the square.
The most notable feature of Plaza de la Constitución is the bell tower, which is the only remaining feature of the 17th century Santa María la Coronada church. The tower features a clock and has historically been seen as the centre of the village.
The square, which has several restaurants and places to sit, as well as a children's play area, leads onto Calle Sevilla which takes you up to further points of interest such as Casa de la Memoria de la Sauceda and the town hall.
History
Originally, when the church was built in the 17th century in the current location of the Plaza de la Constitución, it was known as Iglesia de San Sebastián. However, at the end of the 18th century the church was renamed Iglesia Santa María la Coronada and kept this name until it was demolished in the 20th century.
This church, of which only the bell tower now remains, replaced la Iglesia de la Misericordia, located next to the castle grounds, as the main parish church for the village. As a result, it became the main meeting place for people who lived in the area, and new buildings were erected. As in most towns, the plaza is the social heart of the town.
The tower is similar in style to historic buildings in the village such as the bell towers of Iglesia de Nuestra Señora de la Victoria and the Santuario de Nuestra Señora Reina de los Ángeles (located in the neighbourhood of Los Ángeles).
The first reference to the old church in Plaza de la Constitución was in 1690 in Fray Jerónimo de la Concepción's book El Empirio, in which the author talks about the history of Cádiz province. Another key reference is in a letter dating from 1736 (probably when the church's name was changed) which describes the poor state of the building at this time due to the uneven, sloping ground on which the church was built. The building's poor condition became a serious issue and due to danger of collapse, in 1947 it was demolished, with the exception of the bell tower which was in a better state of repair.
Today the Plaza de la Constitución marks the village centre, with three restaurants in it: Restaurante La Tasca, El Ventorrillero and Bar Restaurante Pastor 2. For more information on these and other places to eat, visit our Jimena restaurants page.