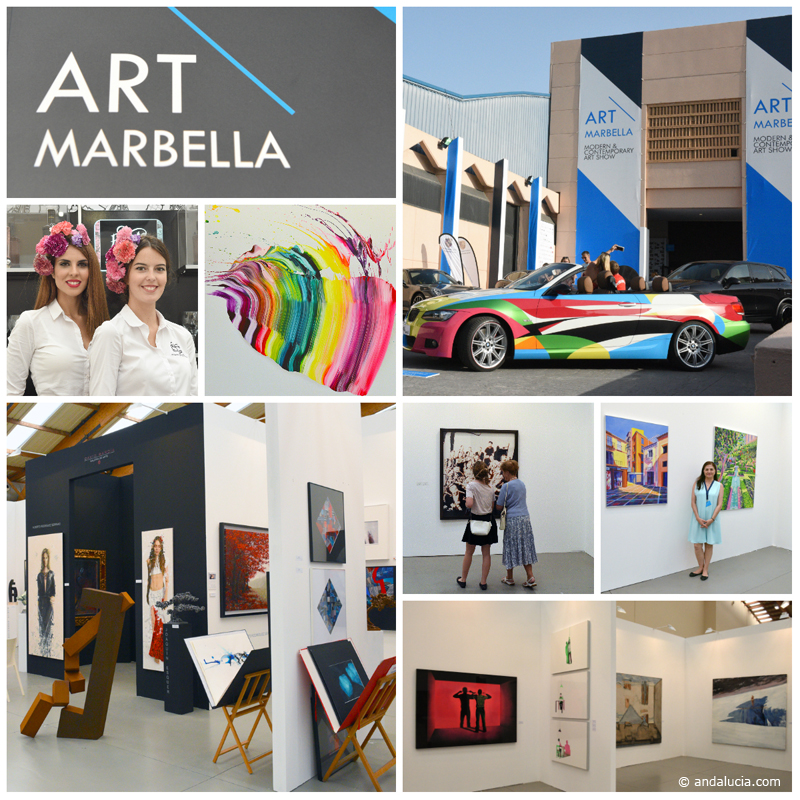 Art Marbella ( Click to enlarge images) © andalucia.com
ART MARBELLA
ART / MARBELLA
Dates 2017

28 July - 2 August 2017
(Confirmed by the Organisers)
Art/Marbella is a 'Modern and Contemporary Art Show', and billed as the first major international art fair in the Costa del Sol. It was launched in 2015, and takes place in the Palacio de Ferias y Congresos, over six days starting on the last weekend of July. The second edition took place from 29 July to 3 August 2016.
The event is of a very high standard, with about 40 renowned galleries attending.

Art/Marbella is the brainchild of Alejandro Zaia, the Argentinian co-founder of the world's leading Latin American modern and contemporary art fairs - PINTA New York (which has relocated to Miami) and PINTA London (which relaunched in 2016 as Crossroads).
The curatorial committee of the first edition of Art/Marbella included Omar López-Chahoud, founder and director of the Miami art fair UNTITLED, and María Chiara Valacchi, director of Milan's non-profit Spazio Cabinet.
The decision to hold the fair in Spain is a brave one. Latin American and Iberian contemporary art by definition is not a niche, and the collectors' landscape in Spain is dominated by the ARCO art fair in Madrid held every February.
Zaia's choice of Marbella was surprise to the industry. He explained: "Marbella is one of the most relevant places in Europe in summertime. It gathers a large number of European visitors, but also from places such as Russia and the Middle East, and represents a unique opportunity to establish an international art fair with the excellence and quality deserved both by the city and its visitors."
The choice of date in the mid-summer is also a surprise. The intended market is clearly not just the international collectors, who like the idea of coming to a top fair in a resort town like Marbella, but also Marbella's wealthy regular summer visitors.
For visitors to Art/Marbella, excursions have been organized to Malaga to visit the city's artistic gems - the Picasso Museum, Centro de Arte Contemporáneo (CAC), Museo Carmen Thyssen, the Pompidou Centre, Russian Art Collection for visiting collectors who are new to the region. Not forgetting the smaller private art galleries of Marbella.

Art / Marbella is not a tourist event like the FIAM was; it is primarily for the professional collector. However anybody with a genuine interest in top quality contemporary art, or wishing to see how a top quality art fair is arranged - or simply cool off from the heat of Marbella summer - is welcome to take a look around. The entrance fee at 8€ (dropped from 15€ in the first tow editions) is designed to ensure this.
Entrance
8 €
Palacio Congresos Marbella
Fri 28th July to Wed 2nd August.


GALLERIES PRESENT IN 2017
International Galleries Present in 2017 are: Art Lounge, Sasha D Espacio de Arte, Del Infinito & Doble Zeta Art Gallery de Argentina; Baró Galeria de Brasil; Gallery CLU, RoFa Projects & Winn Slavin Fine Art de Estados Unidos; Gloria Cohen, Galerie Koralewski, Lieven De Buck Fine Arts & Maëelle Galerie de Francia; rosenfeld porcini & Maddox Art de Inglaterra; SAMHART Gallery de Suiza; Gallery Steiner & SvH Atelier Gallery de Austria; Proyecto H Contemporáneo de México; Kún Kelemen Fine Arts de Eslovaquia; & Wadström Tönnheim Gallery de Suecia.
Spanish Galleries Present in 2017 are: CarrerasMugica, Carles Taché, Max Estrella, Michel Mejuto, Galería Cayón, Galeria Joan Prats, Galería Pilar Serra, Galeria Contrast, Galería Ángeles Baños, Galería Hispánica, Aurora Vigil-Escalera, Galeria Senda, Tat Art, Galería silvestre, Galería Lucía Mendoza, Twin Gallery, Mirat Projects, Galería Fernando Latorre, Valid Foto, ASPA Contemporary, Shiras Galería, MR Art Gallery, Galería de Arte Gaudí, Javier Román, Kir Royal Gallery, Pedro Peña Art Gallery, STOA Gallery & Rodrigo Juarranz.
In 2016 the following Galleries attended:
Area 72 - Valencia, Spain
Art Wanson Gallery - Marbella, Spain
ArtNueve - Murcia, Spain
Aurora Vigil - Escalera Galería de Arte, Gijón, Spain
Baró Galeria - Sao Paulo, Brazil
Beta Pictoris Gallery/Maus Contemporary - Birmingham, USA
Carles Taché - Barcelona, Spain
Carlos Carvalho Arte Contemporânea - Lisbon, Portugal
CarrerasMugica - Bilbao, Spain
El Tercero de Velázquez - Madrid, Spain
Espacio Mínimo - Madrid, Spain
F2 Galería - Madrid, Spain
Galería Álvaro Alcazar - Madrid, Spain
Galería Bacelos - Madrid, Spain
Galería Casa Cuadrada - Bogotá, Colombia
Galería de Arte David Bardía - Madrid, Spain
Galería Filomena Soares - Lisbon, Portugal
Galería Gema Llamazares - Gijón, Spain
Galería Hispánica Contemporánea - Madrid, Spain
Galería Michel Mejuto - Bilbao, Spain
Galería Moisés Pérez Albéniz - Madrid, Spain
Galería Rodrigo Juarranz - Aranda de Duero, Spain
Galería Senda - Barcelona, Spain
Galería Silvestre - Madrid, Spain
Galería Xavier Fiol - Palma de Mallorca, Spain
Galerie Mark Hachem - Paris, France
Horrach Moya - Palma de Mallorca, Spain
Javier Román - Málaga, Spain
Kir Royal Gallery - Valencia, Spain
La Gran - Valladolid, Spain
Lin & Lin Gallery - Taipei, Taiwan
Lucía Mendoza - Madrid, Spain
Max Estrella - Madrid, Spain
Pabellón 4 Arte Contemporáneo - Buenos Aires, Argentina
Pedro Peña Art Gallery - Marbella, Spain
Python Gallery - Zurich, Switzerland
Rafael Ortiz - Sevilla, Spain
RocioSantaCruz - Barcelona, Spain
Rofa projects - Potomac, USA
Saida Art Contemporain - Tetuán, Morocco
Sala Branca - Lisbon, Portugal
Set Espai D´Art - Valencia, Spain
STOA - Estepona, Spain
Toro Arte Contemporanea - Caserta, Italy
The Gallery Steiner - Vienna, Austria
Twin Gallery - Madrid, Spain
Yolanda Ochando Obra Gráfica - Málaga, Spain
In 2016 the Host Committee comprised:
Alejandro Zaia
Sebastián Valdez
Anibal & Marlise Jozami
Francis Verstraeten
Pablo de Hohenlohe
Flavia de Hohenlohe
Fernando Vega Olmos
Fernando Frances
Konstantine Von Knieriem
Virginia Hartely Sartorius
Salvador & Elena Garriga
Luis & Yolanda Caballero
Lulu Al-Sabah
Irina Gräfin Zu Stolberg Stolber
Monica Holmberg
Kathy Wright
Kamran Diba
Karen Zumtobel
José Malbrán
Úrsula Salvador
Enno Scholma
Cecilia Melián
MAYOR OF MARBELLA Sr José Bernal Guitiérrez
In 2015 the following Galleries exhibited:
Adhoc - Vigo, Spain
Alarcon Criado - Sevilla, Spain
Alimentacion 30 + Salón - Madrid, Spain
APGallery - Madrid, Spain
Area 72 / Punto - Valencia, Spain
Art Nueve - Murcia, Spain
Aurora Vigil-Escalera - Gijón, Spain
Bacelos - Vigo, Spain
Baro Galeria - Sao Paulo, Brazil
Carlos Carvalho - Lisboa, Portugal
Carreras Mugica - Bilbao, Spain
Daniel Cardani - Madrid, Spain
Elephant Kunsthall - Lillehammer, Norway
Espacio Mínimo - Madrid, Spain
F2 Galeria - Madrid, Spain
Fernando Pradilla - Madrid, Spain
Filomena Soares - Lisboa, Portugal
FL Gallery - Milan, Italy
Galeria de las Misiones - Montevideo, Uruguay
Galeria El Museo - Bogota, Colombia
Galeria Pelaires - Palma de Mallorca, Spain
Gema Llamazares - Gijon, Spain
L21 Gallery - Palma de Mallorca, Spain
Mark Hachem - Paris, France
Max Estrella - Madrid, Spain
Michel Mejuto - Bilbao, Spain
Narrative Projects - London , United Kingdom
Odalys Madrid - Madrid, Spain / Caracas, Venezuela
Opere Scelte - Turin , Italy
Red Penguin - San Pedro de Alcantara, Spain
Rodrigo Juarranz - Aranda de Duero, Spain
Rosa Santos - Valencia, Spain
Saro León - Las Palmas de Gran Canaria, Spain
Set Espai D'Art - Valencia, Spain
STOA Gallery - Estepona, Spain
Twin Gallery - Madrid, Spain
Yusto/Giner - Marbella, Spain