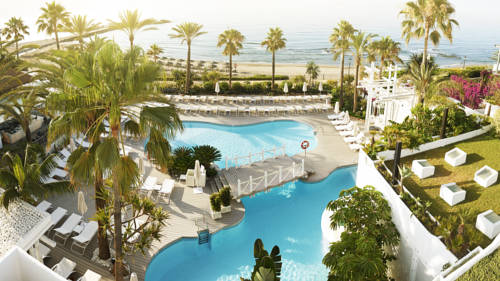 The Puente Romano pools right by the sea
Hotel Puente Romano
This beachfront hotel is named after a Roman bridge, which is at the centre of its lush grounds. Situated on Marbella's Golden Mile, the Puente Romano boasts nine bars and restaurants, including Japanese and Italian.
What's it like?
The hotel was originally built as the Puente Romano residential complex in 1976 to look like an Andalucian village, complete with whitewashed houses, tiled rooves, pretty cobbled plazas, and brightly-coloured flowers. As such, it offers an extensive area of low-rise luxury accommodation, spread out around large, sub-tropical gardens which have 400 species from five continents. It became a hotel in 1979.
Puente Romano, Marbella
The hotel has 266 rooms and suites in 27 three-storey buildings, decorated in contemporary Mediterranean style, each with its own living room, balcony or terrace looking onto either the gardens or the beach, bath and shower, WIFI (extra charge) and iPod dock. Rooms are 35m2, while suites range from 55m2 up to 60m2; grand suites are 70m2 to 315m2 and have whirlpool baths, colonial or Mediterranean theme décor and large terraces. The magnificent Penthouse Beach Suite has three bedrooms and bathrooms, as well as two large sea-view terraces - 315m2 in total.
You have no less than four outdoor swimming pools to bathe in: the all-year-round heated beach club pool, the main pool, and the central pool (June to September only), plus the children's pool.
Guests can choose to eat at a variety of restaurants, from formal Italian to hip Asian fusion, Moroccan (weekends only) or the casual pool snack bar, which has homemade ice-cream.
There are also a cocktail bar with Moroccan décor, a Japanese bar and restaurant, and the most high-profile: a restaurant and a brasserie by Dani Garcia, one of Andalucia's top chefs with two Michelin stars.
What's its history?
The Puente Romano was built in 1976/7 by Tulio Pino (Seville property developer) be the one of the most exclusive Andalucian village apartment complexes on the Golden Mile. Some 60 units were sold privately and in 1979, the rest were sold together to Syrian businessman Mouaffak Al Midani who turned the complex into a hotel. When Mouaffak died, the hotel risked closure until it was bought by Marbella resident David Shamoon in 1995, who also bought the Marbella Club.
The site of the hotel is historic: the Roman bridge after which the hotel is named is located in the heart of its gardens. The bridge is said to date from the 1st century AD, and would have formed part of one of the Roman province's important roads from Cadiz to Cartagena. Curiously this small stone arch bridge spanning only 3m over a former stream survives where others on the road have not.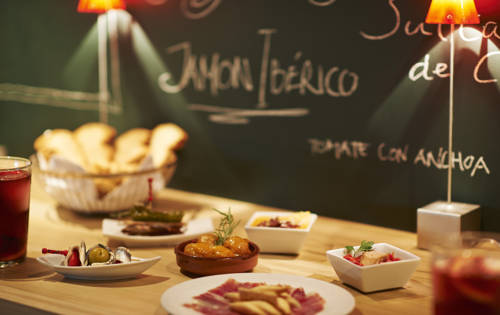 Guests can choose to eat at a variety of restaurants, from Spanish, Italian to Asian and Moroccan
What is there to do?
There is no shortages of activities at the Puente Romano: swimming in the three pools and sea; playing tennis on the 10 courts - their club hosts many international competitions, as well as Davis Cup training sessions, and also has a gym offering pilates, yoga and aerobics classes; spa with thalassotherapy treatments (at the Marbella Club hotel). Of course, there is the beach, one of the main attractions of Marbella and this hotel. For night owls, there's a disco.
Guests also have use of the facilities of the Marbella Club Golf Resort, which also offers horse-riding, and El Higueral course. Watersports available include jetskis, sailing boats and waterbicycles. The Kids' Club offers swimming, tennis and padel lessons, as well as painting and crafts, for youngsters aged 4-10.
Puente Romano is a member of the Leading Hotels of the World Group.
How to get there
The Puente Romano is situated on the "Golden Mile", the coast road between Marbella and Puerto Banus, otherwise known as the Bulevar del Principe Alfonso con Hohenlohe (N340). The hotel is next door to (just south of) the Marbella Club hotel. Alternatively, leave the A7/E15 Autopista del Mediterraneo motorway at Exit 181 or 182.