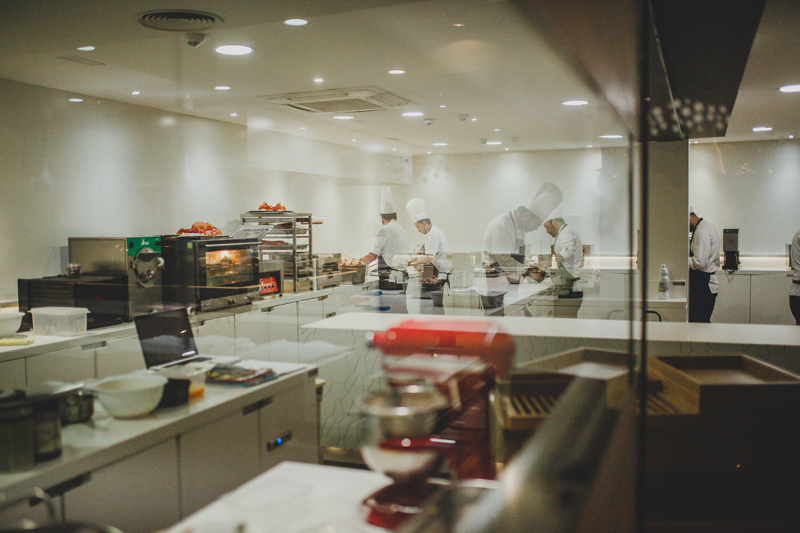 Staff in the kitchen at Dani Garcia Restaurant © Dani Garcia
Marbella Michelin Star Restaurants
Here we list the Michelin Star restaurants available in Marbella, whose well renowned chefs provide a fantastic dining experience.
Restaurants - Three Michelin stars
Dani Garcia
One of Andalucia's most renowned and respected chefs, known for his imagination and originality, Dani has two restaurants at the beachfront Hotel Puente Romano in Marbella. Dani is Malaga province's first chef with three Michelin stars, and only the second (after Angel Leon) in Andalucia.
The eponymous Dani Garcia restaurant serves dishes such as carrot cup cake; nitro tomato ceviche; stew with mint and caviar; and millefeuille of caramelized green apple and goat cheese with foie and sour puree.
Dani trained with Martin Berasategui, and won his first star back in 2000 for his restaurant Tragabuches in Ronda. The Marbellan chef presided over Calima in the Hotel Gran Melia from 2005 to 2013, where he won his first star in 2007, and his second in 2010. For more about him, see our interview.
He won his third Michelin star in 2018 (his two stars from Calima were revalidated to Dani Garcia in 2014).
In December 2018, Dani made the shock announcement via Social Media that his three-Michelin-starred restaurant would close on 22 October 2019. For more details, see our blog post.
Dani Garcia, Hotel Puente Romano, Bulevar Principe Alfonso Von Hohenlohe s/n, Marbella.
Telf.: +34 952 820 900
Restaurants - One Michelin star
El Lago
Beautifully set overlooking a lake and golf course, in a smart residential development, this is as slick as you'd expect for such an upmarket location. Chef Diego del Rio's dishes include tuna tartare with ajoblanco of kimchi, apple and crunchy quinoa, or pigeon with puree of carrots, honey bread and soy and hazelnut sauce. El Lago gained its Michelin star in 2005.
Avda. Las Cumbres, s/n, Marbella.
Telf.: +34 952 832 371 Map
Skina
Small restaurant in the old town run with chef Mario Cachinero at the helm, boasting a Michelin star since 2008. You might find poached lobster, red quinoa and celeriac, or roasted rabbit served with mustard and parsnips. Closed on Mondays.
Calle de Aduar, 12, Marbella.
Telf.: +34 952 765 277 Map
Messina
Messina has been delighting guests with two tasting menus since opening in 2001, under its Iialian chef Mauricio Giovanini, and gained its Michelin star in 2015. Dishes include king prawns with cream of polenta and tomato, and Iberian pork loin with cream of lentils and roast spring onions.
Open Lunch 13.00 to 15,30 and Dinner 20.00 to 23.00.
Avenida Severo Achoa 12, Marbella.
Telf.: +34 679 77 00 62 Map
Search Hotels in Marbella