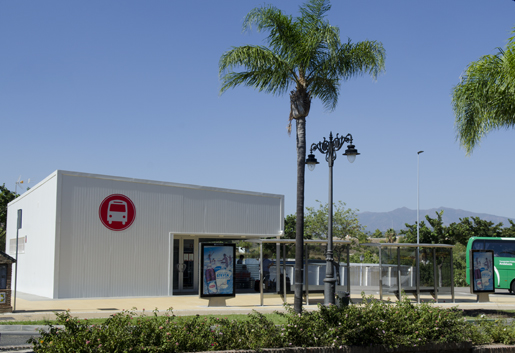 Estepona's new Bus Station opened on Monday 21st July 2014
BUS FROM ESTEPONA TO Marbella
A half hourly service runs east to San Pedro and Marbella (3.27€) . This bus leaves stop oposite the bullring, outside bar La Niñas' and travelles east along Avenida de España to stop in Estepona town centre (near Calle de la Teraza) and outside Carrafour before travelling east to Marbella.

Stops on the M-240 Estepona to Marbella are:

Numbers after the name of the stop are the number of minutes the bus calls at this stop after leaving Estepona Bus Station.
Estepona Port, +0m
Avenida de España (opposite Plaza ABC),
Paseo Marítimo (oposite Hotel Mediterraneo),
Carrefour, +6m
McDonald's (opposite),
El Padrón, +13m
El Castor,
El Velerín ,
Selwo turning, Repsol garage, +17m
Boladilla Alta (Las Dunas Park),
Parque Antena (before Rio Guadalmansa),
Venta Los Niños, Villacarna Club, +22m
Gran Hotel Playabella, Sun Beach,
El Saladillo Petrol Station,
Hotel Santa Marta, Benamara, +27m
Isdabe, +30m
Guadalmina, +33m
San Pedro, Aspadem,
Sam Pedro, +37m
Cortijo Blanco, +40m
Restaurante El Rodeito (oposite), +42m
Playas del Duque, Avenida Lola Flores,
Puerto Banús, +46m
Hotel Meliá Dinamar, Original Interiors,
Hotel Coral Beach,
Neolife (opposite),
Istán road, +51m
Hotel Puente Romano, +53m
El Vicario (before Marbella Club Hotel),
La Carolina, +55m
Montebello,
Porcelanosa, (after Plaza Bocanegra), +58m
Marbella Centro, +60m
Marbella Center, +63m
El Punto
La Perdiz
La Cañada (by BP Petrol Station), +70m
Marbella Bus Station, +75m
| | |
| --- | --- |
| | For routes to: Malaga Airport, Algeciras, Benalmadena, Cadiz, Casares, Cordoba, Granada, hospital, La Linea, Malaga, Marbella, Puerto Banus, San Pedro, Torremolinos |

Location of Bus Stop on L-79 Estepona to Marbella route
Find Hotels near Estepona Bus Station