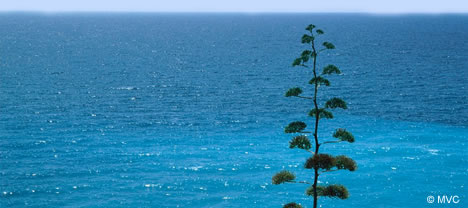 Costa Almeria
Inland Almeria

The coastline varies enormously in the degree and type of development along it.

More >

Much of the interior of Almeria province is semi-arid steppe. It is a parched, lunar landscape of low, mostly barren mountains and dried-up river beds.

More >
In the far Southeastern corner of the Iberian peninsula is this sun-baked province, with the highest hours of sunshine and lowest rainfall in Europe. Given Almeria´s climate, it´s no surprise that much of the province is comprised of semi-arid desert-like landscape. Due to the dry weather, much of this area is a sparsely populated wilderness.
Almeria´s skies are also the clearest in Europe, meaning that Europe´s most powerful telescope has been installed here, near Gergal. With an annual average of 3,000 hours of sunshine, it is also home to Europe´s largest solar energy plant, the Solar Platform of Almeria (PSA), an EU solar energy research centre. Even if you´re not allowed in, you can peer over the wire fence and marvel at the rows of futuristic heliostats reflecting the sun´s rays into the towering solar oven and many other devices for turning the sun´s energy into electricity.
Exotic landsacpe of inland Almeria
This hot climate and the natural protective barrier of the Sierra de Gádor also means that Almeria is one of the most productive agricultural zones in Europe, with more than 10,000ha of land cultivated commercially for fruit, vegetables and flowers. Although bringing new wealth to an area of Spain that used to be economically depressed, this intensive agriculture means that a good chunk of the coastal territory is under wraps, swathed in field after field of plastic greenhouses.
Fortunately, an equally sizeable area has so far escaped being swamped by invernaderos (greenhouses) by virtue of its protected status as one Andalucia´s most outstanding wildlife areas and its largest coastal reserve, the Cabo de Gata-Níjar Natural Park.
ALMERIA CITY
The provincial capital and port of Almeria is overlooked by a vast, sprawling Moorish citadel, the Alcazaba. Also well worth exploring is Almeria´s old town, peppered with interesting monuments, including a cathedral with an impressive Gothic interior, a 300-year-old hospital and great tapas bars.