ISLETA DEL MORO
Isleta del Moro is a tiny picturesque fishing hamlet on the Almeria coast, located a few kilometres north of San Jose village, near Los Esculleros. If you are driving along the APL-826 coast road, from San Jose to Las Negras, it is worth the small detour.
The village is laid out in a pointed shape towards the promontory. Take a look round the main square, formed by the houses on three sides and the jetty on the fourth, with its whitewashed church. Also worth seeing is the lavadero (communal clothes-washing area, formerly a popular social hub), which is still used today, unusually; it was restored in 2009.
The village is known for the two promontories bordering the beach and village. This part of the Almeria coast is characterised by the abanicos aluviales (afluvial fans), fan-shaped deposits of sediment, located between the Sierra de Cabo de Gata volcanic mountains and the sea.
A fleet of small fishing boats called varadas operates out of Isleta del Moro and neighbouring towns such as Las Negras and San Jose. These are pulled up onto the beach, in traditional fashion, rather than docked in a port. Fish caught locally include sargo (bream).
The name comes from Isleta del Moro Arraez, possibly from a Moorish commander called Mohamed Arraez (ar-rais means boat owner).
The larger of the two beaches is Playa de Peñon Blanco, 400m curve of sand - you can park behind it; and Playa Isleta del Moro, next to the village is smaller. There's a diving centre.
There is also a lookout point, Mirador La Amatista, towards Rodalquilar, with views of Los Esculleros and Pico de los Frailes, at 500m the highest peak of the mountain range.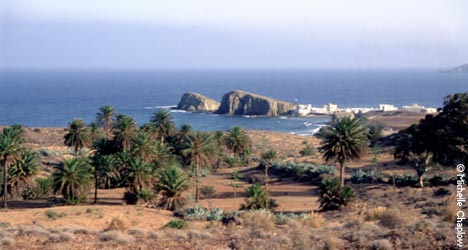 Bus service from Isleta del Moro to Almeria with Autocares Bernardo