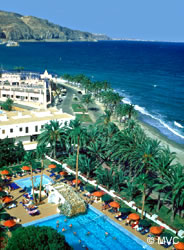 Roquetas
Roquetas de Mar
Take me to: Roquetas de Mar Hotels
Roquetas de Mar is a fishing village just 15 minutes (by car) from Almería, the capital city of the province by the same name.
Roquetas de Mar is known not only for it's fishing village traditions which are carried on today through gastronomy and annual festivals, but also for its fame as a resort town. Within the municipality of Roquetas el Mar is the famous "Aguadulce" (Fresh Water) resort – one of the first tourist resorts established in Spain in the 1960's and has been classified as a Centre of National Touristic Interest. The municipality also borders or includes important nature reserves and natural parks.
The village of Roquetas de Mar offers sightseers the 18th century Our Lady of the Rosary Church (Iglesia de Nuestra Señora del Rosario), the 16th century Santa Ana Castle, Roman remains and the Santa Ana lighthouse among other examples of local architecture and historical remains.
If it's archaeology that interests you, the town does have remains dating back before the advent of Roman rule in Spain. The Torrequebrada archeological site has uncovered numerous artefacts from the Phoenicians.
Gastronomy
Gastronomy in Roquetas de Mar revolves around the fruits of the sea with rice and lobster topping the list of local specialities. Also sample seafood and pasta stews, typical Andalusian style fried fish and a variety of other plates based on fish and shellfish.
Celebrations
Annual fiestas include the Virgen del Carmen which, of course, offers fishermen – and their descendents – the opportunity to pay homage to the patron saint of fishermen. Noche de San Juan is another big coastal event that is celebrated with great fervour in Roquetas de Mar. And then there is the festival in honour of Santa Ana, whose name is so prevalent on churches and other edifices in the town. The town honours all of the main Spanish holidays and festivals, such as Semana Santa and Three Kings with smaller festivals and events occurring throughout the year as well.
Nature lovers can visit the Punta de Entinas Sabinar Natural Park and the not so far away Cabo de Gata Natural Park. Local beaches along and around Roquetas de Mar are one of the main attractions in the area, but if you visit
Marina Info
Latitude: 36*45'5"N - Longitude: 2*36'W - VHF: CH9 & 16
Harbour Entrance width: 90m depth: 4 - 6m
183 Moorings, 5-15m deep
Marina
(Puerto Deportivo de Roquetas de Mar)
Close to fishing and sporting facilities.
Things to see:
Sand dunes of Punta Sabinal.
Castle at Santa Ana.
Golf
If you get to Roquetas del Mar and wish to engage in a fun afternoon of golf, the Playa Serena Golf Club one of the flattest courses in the country and a gorgeous 18 holes.
ART GALLERIES
Many well known Spanish artists, including Antoni Tàpies and Soledad Sevilla, have their works exhibited at the AM Gallery.
Pasaje de Torre Estrella 6, Plaza de Toros. Tel 950 171 708
The 16th-century Castillo de Santa Ana has been converted into a cultural centre where exhibitions of art and photography are held. Information from the Town Hall in Plaza de la Constitución. Tel. 950 338 585.