Church of Santa María of the Ascension, Arcos de la Frontera
Basílica Menor de Santa María de la Asunción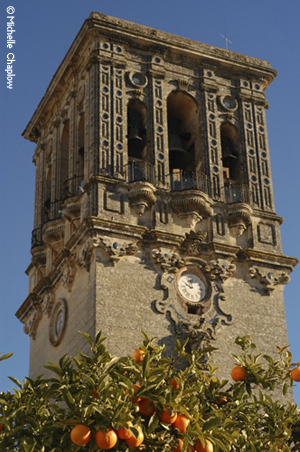 Church Santa Maria de La Asuncion - Arcos de la Frontera
This Mudejar style church dating from the 14th or 15th century has a mix of styles: a Gothic interior, a splendid Gothic-Plateresque facade and an unfinished Neoclassical-Baroque tower, as well as elements of Renaissance. Both the building and the beautiful organ inside have been declared Historic-Artistic monuments.
It is an open-plan church, with three naves of the same height and a monumental sanctuary, designed by the architect and Maestro Mayor Diego de Riaño and his successors.
The church was profoundly altered in the 16thand 17th century, changing the style from Mudejar to Gothic, Renaissance and Plateresque.
History
Diego de Riaño, a Cantabrian architect who was one of the most important figures in the Spanish plateresque, was made Maestro Mayor of Seville Cathedral in1528, and in 1532 also Maestro Mayor of Arcos churches. He carried on the alterations started by Alonso Rodriguez y Juan Gil de Hontañón, earlier Maestros Mayores of the cathedral, in whose bishopric was Arcos.
De Riaño was followed by Martín de Gaínza, who designed the presbytery, Capilla Mayor and Sacristy of Santa Maria in Arcos and who finished Seville cathedral when de Riaño died.
Hernán Ruiz II or El Mozo, Mannerist and Renaissance architectand Maestro Mayor of Seville cathedral from1557, lived in Arcos from1559 to oversee the work, and ended up staying in the town, where he died.
In 1699 the jerezano architect Diego Moreno Meléndez over saw the construction of the flying buttresses which cross the Callejón de las Monjas, and which support the walls on that side of the church, inclined from the weight of the vaults.
In the 18th centurythe tower was built, as a reference to the Giralda, by the same architect and Maestro Mayor of the Tobacco Factory in Sevilla, Vicente Catalán Bengoechea. It was supposed to have a second layer of bells, plus a further octagonal storey for the clock. It is a mix of Renaissance and baroque. Unfortunately, there is no public access to the tower.
Inside the most important pieces are the Retablo Mayor from 1585 by Juan Bautista Vázquez and Jerónimo Hernández took over when Hernandez died in 1608.
Entrance fee: 2 euros
Calle Dean Espinosa 1, 11630 Arcos de la Frontera