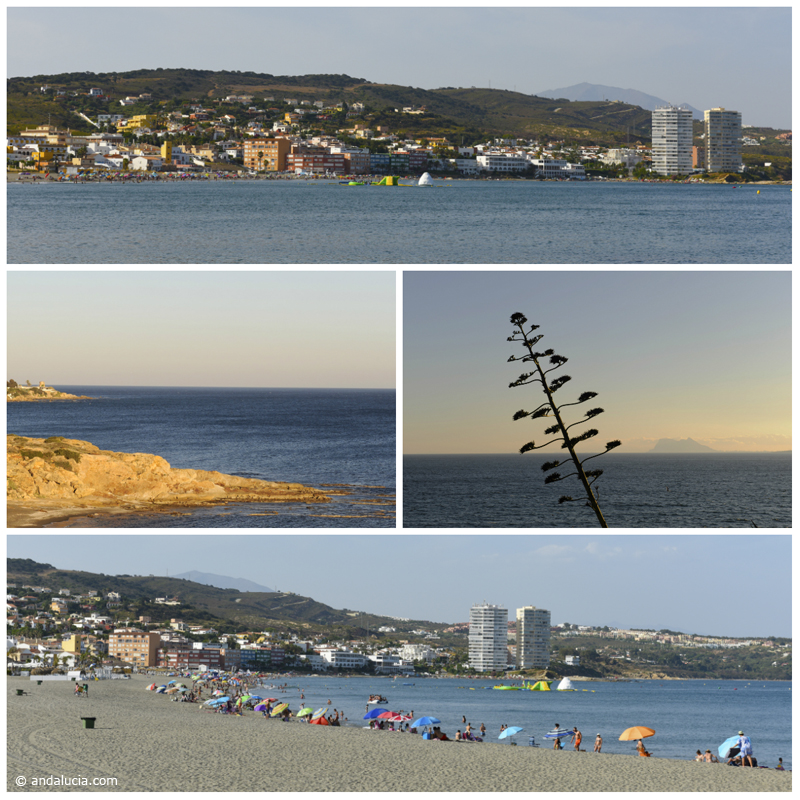 Torreguadiaro
Torreguadiaro
The village of Torreguadiaro is one of the districts of San Roque and located on the coast just to the east of the popular resort of Sotogrande. It was formed by the construction of some houses near the defensive towers around 1900. Recently it has benefeted from the construction of the A-7 by-pass as the main street is now quiet of traffic and a more village feel has developed. An number of cafe bars have opened and the terraces are popular especially on summer evenings. Look our for Puro Tapas. A number of Sotogrande resort residents and visitors come to Torreguadiaro in the evening for a change of scenery.

It has a number of hotels that were (and still are) popular and convenient roadside stops for travellers on the way to Algeciras or Tarifa for the ferries to Africa. It has also become popular with British resident working in Gibraltar.


RESTAURANTS
Chambao Beach Bar Club
Beach bar on Playa Torreguadiaro with good sushi and fresh grilled fish. First stop if you are walking from Sotogrande, follow the wooden boardwalks.

InBoca Gastrobar
Stylish gastro-tapas bar. Reasonable prices, superb food, good atmosphere.

Puro Tapas
Stylish tapas bar with innovative tapas and contemporary decor. Quick service with friendly young staff; English and French spoken. Outside seating

SotoMaki Sushi Express
New small café for sushi lovers. Take-away and delivery service as well.

El Trasmallo de Agostino
Beachfront restaurant and bar serving traditional fish and seafood dishes. Sea views from glassed in terrace. Restaurant established in the 1970s, present owners since 2005.

Pedro's Cantina Tex Mex
Well-established and well-priced Mexican in an unglamorous shopping centre.
Bus
Torreguadiaro is serviced by the
Estepona bus
to La Linea bus route. The bus stop is next to the rather non descript Plaza Encarnacion Sanchez Navarro.
THE WATCH TOWERS
The two towers that give Torreguadiaro its name are not the twin 23 storey 1970's blocks of flats that can be seen for miles and have become a landmark for sailors. To the west of the town can be seen the ruined watchtowers. The original tower (called Torre Quebrada de Guadiaro) can be seen in open ground, adjacent to the new beach access car park. The tower was constructed in the 15th century and was used as a refuge for shepherds as well as a lookout. It was struck by lightning at the begining of the 16th cenruty and split in half. (surprising that it still stands today), A report of 1516 record the need for a replacement. A new and bigger tower (14m diameter and 16m tall) was constructed with shaped stone blocks about 200m to the east on sligthly higher ground. This tower (called Torre Nueva de Guadiaro) has two floors, stairs, a chimney and an exterior entrance door at a safe height that was access via a rope ladder. In 1796 it was recorded as having a cannon and a small company of soldiers to man it. There also used to be a small 'cuartel' building that the soldiers used and was later occupied by the Guardia Civil up to the civil war. It was restored in 2015. More about watchtowers.
MArshland
In the area beteen the towers and the beach is an area of protected marchland of particular interest to birdwatchers. Wooden walkways allow you to view the marchland without damaging them. There is also a birders hide.
The beaches on this coast are described on our
Sotogrande Beach
page.
HOTELS IN TORREGUADIARO (near Sotogrande)
Hotel Boutique Milla de la Plata
All rooms at Milla de la Plata offer spectacular views of the Mediterranean Sea and the Strait of Gibraltar. The hotel is situated in a quiet cove just 2 km from Puerto de Sotogrande Port.

Hotel Las Camelias
Offering rooms with sea views, Las Camelias is located next to the marina at Puerto de Sotogrande. It is a 10-minute walk from the beach, and is within 8 km of 6 golf courses.

Hotel Praticia
The Hotel Patricia near Sotogrande has direct access to one of the best beaches in the region. Close to several golf courses, it has free Wi-Fi in public areas.

Hostal Montilla
This family-run guest house is located just off the A-7 Motorway, 15 minutes' drive from San Roque. It offers a terrace, free Wi-Fi and free parking, 1 km from the beaches of Torreguadiaro and Sotogrande.