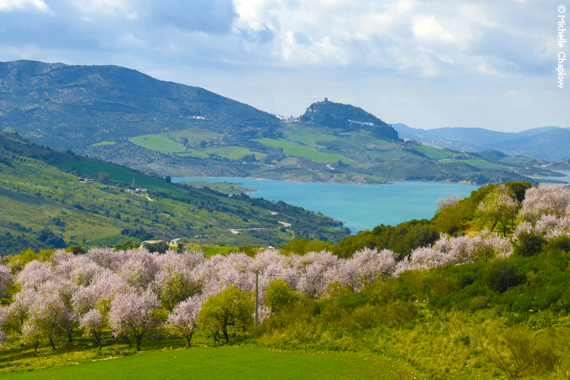 The picturesque village of Zahara de la Sierra (Click to enlarge)
Zahara de la Sierra - OUTSIDE VILLAGE
by Chris Chaplow
Reservoir - Embalse de Zahara - el Gastor.

The reservoir, which is relatively new, has made the town even more popular with visitors, who now have the option of water sports and swimming, sports which didn't exist 10 years ago in Zahara. Just below the town is an area to park the car and walk by the reservoir. You can hire Kayaks to go out on the lake.
In front of the town on a small hill, with a prepared short path up to a mock-castellated walled area that afford good views of both the reservoir, surrounding countryside and the village itself.
In the spring, there is also an abundance of wild flowers in and around the village and the pink almond blossom in February and March is spectacular.
Molino "El Vinculo"
Just outside the town, on the road to Grazalema, is an old olive old mill that has restored its original British-manufactured Victorian presses. Founded in 1755 by Don Pedro de Peñalver y Castroverde, the mill is open to visitors, and you can learn how olive oil is produced. Well worth a visit and perhaps the only mill in Andalucia that still produces olive oil with original machinery today. The mill is a rural hotel so you can also stay there.
Area Recretiva Arroyomolinos
This recreation area is at the foot of the Sierra de Monte and 300m from Cueva del Susto, located in a wooded area on the edge of the reservoir and with a small sandy 'beach'. There are BBQ points and a bar restaurant and in the summer you can hire Kayaks on the lake. Location: Carretera de Arroymolinos km3
La Garganta Verde
La Garganta Verde is a spectacular canyon which has been cut out by the Arroyo del Pinar river, located about 5km from the village and within the Parque Natural Sierra de Grazalema. The name comes from the lush vegetation hanging onto the walls of the canyon, which are up to 400m high. The path that follows the canyon is classed as medium to high difficulty, is 2.5km long and takes 2hrs. To do the walk it is necessary to first get permission from park visitors' centre in El Bosque. In the canon as well you can visit Cueva de la Ermita.
NATURAL AREAS
Grazalema Natural Park is adjacent to the village. More>
Search Hotels near Zahara de la Sierra