Almedinilla is a village and a municipality. The area surrounding the town itself is full of archeological finds dating back to the Iberiains with remains from Phoenician and Greek activity and significant leftovers from the Roman occupation of the peninsula. There is even a necropolis and Roman villa complete with mosaics. The villa is actually near the village and you can ring the town hall to arrange a guided visit. The number posted at the site is 952 70.30.85.
Search Hotels in Almedinilla
Inside the village of Almedinilla there is a Museum of History (Museo Histórico-Arqueológico) in the heart of the old Village by the little bridge. This part is near a deep ravine where the road twists out and small man made caves can be seen in the rocks.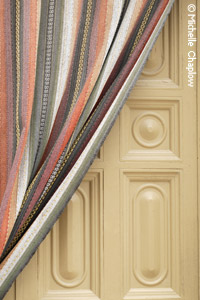 Keeping the sun off the doors.
While many traditional homes across Andalucia use curtains over the doors to keep out the flies and heat, villagers in Almedinilla stand out with their colourfully decorated choices. In fact, you'll find curtains featuring interesting handmade decorations, like hunting scenes, for example.
Shopping
If you'd like to acquire something "Made in Almedinilla", look for hand woven baskets, furniture and homemade sausages.
Festivals
The Candelaria festival is celebrated on February 2nd, San Isidro on May 15th and Nuestra Señora de la Asunción on August 15th. The patron saint of Almedinilla is San Juan, and that is celebrated on June 24th with special theater performances.
To reach Almedinilla from Córdoba, take the A-4 heading towards Granada. Take exit 408 heading towards Málaga. From there, follow the A-45 to exit 56 heading towards the town of Lucena. Next take the A-318, then the A-339. The road to Priego will take you straight into town.