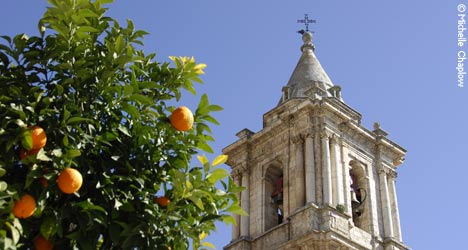 On the fringes of the rugged Sierras Subbéticas Natural Park is the attractive village of Luque, which is perched on a rocky outcrop and crowned by a castle, with some of its Medieval defensive walls still standing.
The Moors constructed a castle in the ninth century over the remains of a Roman fortification, but virtually all of the present-day remains of the fortress date from the 13th century, when Fernando III ordered it to be built.
Don´t miss the Renaissance parish church of La Asunción, which has been declared a site of cultural interest and was partly designed by Hernan Ruiz in the late 16th century. It has a magnificent limestone façade and inside, a fine Baroque altarpiece dating from the late 17th century. It also has an image of San Juan la Bautista believed to be the work of Martínez Montañés, the 17th-century renowned religious sculptor.
Subbética Viva has details of walks and guided tours in Luque and the surrounding area. It also has details of the only place to stay in the village, the hostal Albergue Rural at the foot of the castle, 686 774 071. You can follow the Vía Verde of the Subbética, a former railway line, on foot or on a bike from Luque west to Zuheros or east to the Laguna del Conde (see below).
Near Luque is the Laguna del Conde Natural Area, which is one of several wetland reserves in southern Cordoba province noted for their birdlife, especially the high numbers of white-headed ducks that overwinter on these lakes. This lake is also known as the Laguna Salobral (Salty Lake) due to its high salinity.
Semana Santa
Luque is unusual in that it has two Easter week brotherhood whose members are all women. More>