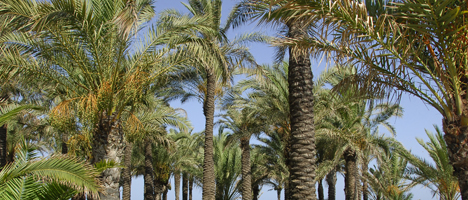 Costa del sol - destinations
Take me to Costa del Sol Home
The Costa de Sol can be divided into two sections: East and West, with Malaga city at its centre. The eastern Costa del Sol is much shorter, stretching from the provincial capital as far as Nerja, where it meets the Costa Tropical of Granada province.
The western Costa de Sol is the section of coast which curves round southwards towards Gibraltar, and includes all the major resorts such as Fuengirola, Torremolinos and Benalmadena, plus of course, the ritzy celeb-magnet of Marbella. This section has a very international feel, with visitors and residents from all over the world.
West Costa del Sol
This section begins at Malaga city and stretches westward all the way to the border of Cádiz province. The area is very lively in terms of nightlife and beach clubs, and has a buzzing atmosphere all year round.
In addition to the Costa del Sol in Malaga province, a short section of this coast is, in fact, located in Cadiz province – the southernmost part, near Gibraltar. This stretch includes the exclusive port and residential developments of Sotogrande, where Spain's most expensive real estate is located, as well as Alcaidesa which has set strict limits on any further development of its town.
Torremolinos
Benalmádena

Torremolinos has thankfully long outgrown its Monty Python spam and chips image and, over recent years, has evolved as an attractive and appealing resort.

More >

Covering an area of almost 30Km2, and with an official 30,000 inhabitants, Benalmadena is just 19 kilometers from Malaga Airport.

More >

Fuengirola
Mijas

Fuengirola is probably most famous for its five miles of sandy beaches, flanked by high-rise hotels with magnificent views of the Mediterranean.

More >

The area governed by the Town Hall of Mijas takes in three very different neighbourhoods.

More >

Monda
Ojén

In 45BC, the Roman civil war, was brought to an end in Caesar's favour at the Battle of Monda.

More >

Ojén, like Istán, has somehow remained relatively unspoiled in spite of its accessibility and closeness to Marbella.

More >

Marbella
Puerto Banús

Marbella's motto is "A Way of Life" and, certainly, this luxurious resort town seems to have it all.

More >

Located just west of Marbella, Puerto Banus is known for its glamour and the luxury yachts that are moored there.

More >

San Pedro
Benahavis

An ancient farming community, once famous for sugar cane, today San Pedro is a refreshingly unspoilt pueblo with an appeal all of its own.

More >

Benahavis has the highest concentration of high class restaurants in the region and draws visitors by the thousand who come simply to savour the cuisine.

More >

Estepona
Casares

Estepona is a coastal town that has retained its' individuality and character.

More >

Casares is a picture postcard village with a population of just three thousand.

More >

Manilva
Sabinillas

One of the most charming aspects of Manilva is that there is a refreshing lack of anonymous sky-scraper construction.

More >

The present day fishing village is a new settlement having been developed in the last hundred years.

More >

Duquesa
Sotogrande

Puerto de la Duquesa really is the Costa del Sol's best-kept secret.

More >

Within the municipality of San Roque is Sotogrande, one of the most luxurious sports and residential developments in Europe.

More >
East Costa del Sol
The eastern part of the Costa del Sol is less developed; it starts at the border with Granada province, whose own coastal area is called the Costa Tropical.
This part stretches for 54km to the east of Malaga city, and is less developed than the section on the other side of the provincial capital. From Malaga eastwards there are cliffs up to 200m high where the Sierra Almijara joins the sea.
It is here that you will find Nerja, which is home to one of the area's major attractions - the Nerja Caves. The inside of the caves are also the location of the annual international music and dance festival!
Málaga City
Nerja

Málaga is the major coastal city of Andalucia and is a genuine and typical Andaluz city.

More >

Nerja is on the seashore some 50 kilometres from Málaga on the N340 coastal highway, and marks the eastern tip of Málaga's Costa del Sol.

More >

Rincón de la Victoria
Torre del Mar

Rincon de la Victoria is sometimes described by local residents as a "dormitory town".

More >

Torre del Mar is one of the main touristic resorts of the Costa del Sol.

More >

Torrox
Vélez-Málaga

Torrox is a sizeable village some 4km inland from its coastal offshoot and not without charm.

More >

The bustling market town of Vélez-Málaga lies 5 km inland from Torre del Mar, surrounded by subtropical vegetation.

More >
Costa del Sol in Cadiz
Alcaidesa
Sotogrande

Alcaidesa is a special creation in that it's traditional Andalusian charm is set to remain as it is forever.

More >

Within the municipality of San Roque is Sotogrande, one of the most luxurious sports and residential developments in Europe.

More >
The Costa del Sol is the most developed and densely populated coastal strip in Andalucia, packed with resorts such as Fuengirola and Benalmádena, which have busy beaches and high-rise apartments. But each place still has its own unique appeal, such as the beautiful old quarter in Marbella and its swish restaurants, good for a bit of celebrity spotting if you´re lucky, an attractive long expanse of beach in Estepona and, if you´re after a lively nightlife, Torremolinos. If you want a rural quick-fix away from the Costa, head north of Marbella to Sierra Blanca, to the pretty villages of Ojén and Monda. Just north of Fuengirola are Mijas, Alhaurín el Grande and Coín.
The Costa del Sol also includes the less spoilt coastline east of Malaga, with the resorts of Rincón de la Victoria, Torre del Mar and Nerja, the latter offering a delightful promenade and a famous cave, the Cueva de Nerja. Just east of Nerja is a small but beautiful stretch of coastline, the most spectacular in Malaga province, which is protected. The Acantilados de Maro-Cerro Gordo Natural Area are magnificent cliffs with secluded coves and sandy beaches covering part of the shore between Malaga province and La Herradura in Granada province. The drive along the coastal road gets increasingly dramatic as you head east from Malaga city, because the mountains of the Axarquía to the north meet the Mediterranean at this point, plunging directly into the sea in steep, rocky cliffs.
Explore the Costa del Sol by Interest
The Costa del Sol stretches along 150km of Málaga province and is one of Spain's most popular tourist destinations, with its wide sweeps of golden sand. The area's mild climate is the main attraction - visitors and residents alike can enjoy the beaches, as well as alfresco dining plus a wide variety of outdoor activities, all year round.... More>