EL CAMINITO DEL REY - STATISTICS
Statistics about the 1.3m unique visitors to the Caminito de Rey official website in its first year of operation were anounced in a press release by the Malaga provincial council. 22% of web visitors were from abroad. We were pleased to see reported that "The visits that come from diariosur.es, and other travel websites, such as skyscanner.es and andalucia.com stand out".
On the actual footpath, there were 23.000 visitors in the first month of operation. In the first year of operation there were 300.000 (free) tickets issued online. The Malaga provincial council has not reported how many tickets were actually used as it is known a high percentage of the free tickets that could not be re-dated were 'no shows'.

Since the purchase of tickets was introduced on 22nd April 2016 up to 25th July 2016 there were 86.100 visitors, equal to 100% sales of the maximum 1.100 per day allocation.
Caminito del Rey Tour from Costa del Sol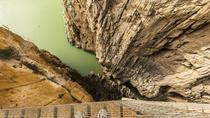 Walk the Caminito del Rey with guide and transport from Costa del Sol. This tour helps you walk the exciting path without any of the logistical complications. Fridays
From Marbella, Torremolinos, Fuengirola and Malaga - 42€

Caminito del Rey - Private Full Day Tour from Malaga or Nerja

Be driven to Caminito del Rey entrance and walk the path. This is a small group guided tour by professional historian along Caminito del Rey, including outward and return transport. You will be collected from south exit for the return transport.
Tuesday to Sundays.
From central Nerja & Malaga - 75 €