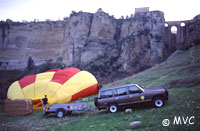 Balloon, 4x4, El Tajo
EXCURSIONS FROM RONDa



Cueva de la Pileta
Limestone caves with interesting formations. Leaving Ronda from the North, follow the signs for Seville. You will soon join C339, which crosses the River Guadiaro. After 12 km take a minor road, MA 501, which branches off to the left, signposted Benoajan. This road winds through another narrow gorge, with views of an man-made lake. Soon the road has views of the Guadiarro River Valley, and passes by the village of Benoajan. After a few kilometres, the road branches to the right for La Cueva de la Pileta.
SERANIA DE RONDA

The Serranía de Ronda (The mountains of Ronda) are studded with charming pueblos blancos (white villages) that can be visited by car in a number of delightful day trips.
Read more in our section on Serania de Ronda.
Benoajan

Benoajan itself is worth a visit. This village is famous in the region for its excellent pork sausages, and current-day travellers have discovered the the Hotel-Restaurant "Molino del Santo", picturesquely housed in an old watermill.
Setenil
The nearby villages of Setenil is renown for its curious dwellings which hang on the steep side of the cliffs overlooking the river Trejo.
Ronda La Vieja
The sheer cliffs of Ronda la Vieja are highly popular with hang-gliding and parapente enthusiasts, who have created several clubs in the region.
ROMAN City of Acinipo
Those visiting Ronda or travelling to Seville should consider visiting the The Ancient City of Acinipo.