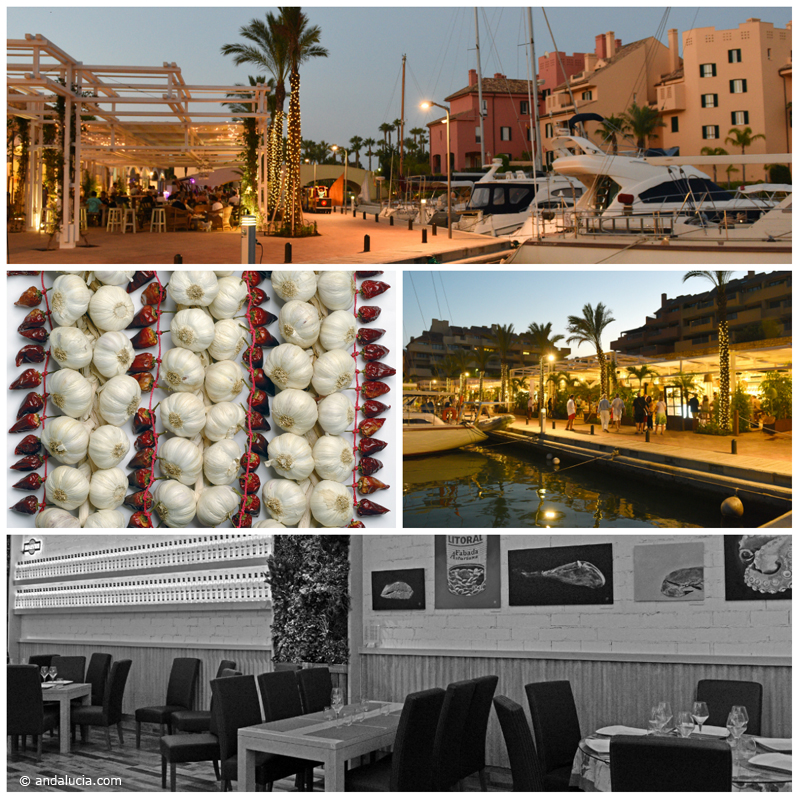 Fine and Casual dining in Sotogrande
Sotogrande - RESTAURANTS
In Sotogrande Marina
Midas
Original marina restaurant, located in the Hotel Club Maritimo with views over the marina. A varied menu of innovative, mainly Spanish cuisine. Outside terrace with canopy. They also offer a good value menu del dia (set menu).

Mytilus
Formal Belgian restaurant on the Marina with terrace dining. Fish, chicken, mussels and steak are all recommended.
Ké
Ké bar has existed as long as the port, and its terrace has a prime location right on the marina overlooking the boats. It is more café than restaurant, with informal dining both inside and outside - contemporary furniture lends a sharp, modern vibe. Mediterranean cuisine, Spanish tapas, both traditional and highly creative fusion options, as well as sandwiches and sushi. Great selection of champagnes. A popular meeting place, Ke has has become a landmark in Sotogrande. Not inexpensive, but the place to be seen.
Portobello
Italian trattoria and pizzeria in plaza of the Marina. Wide range of dishes from a good selection of pizzas to innovative Italian. Relaxed atmosphere. Book online
Las Tartas de Mariana
This is a dainty little boutique shop selling cute little cup cakes, with half a dozen tables on the terrace for refreshments. You can also buy to take away for that special treat.
La Terrasse
Belgian brasserie on the front line of the Marina overlooking boats. Beef stew speciality. Formal inside eating area, and more relaxed outdoor lounge area.

El Mercardo del Levante

Launched in Summer 2015 is the confusingly named 'Mercardo del Levante'. It is more of an overarching brand name for a series of vintage food trucks, gourmet food stalls, restaurants, live music, drinks and cocktails that take place on summer evenings on the La Ribera del Marlin quay in Sotogrande marina area. The quay (La Ribera del Marlin) is a foodie's delight. Prices are slightly on expensive side, as you would expect in Sotogrande, but made up for by location and atmosphere. Ideal for those staying in Sotogrande and visitors from outside. There is a 350 place free underground car park alongside; entrance near the marina entrance to Sotogrande. More>
Paniagua Shopping Centre (Galerias Paniagua)

El Gaucho
Argentinian grill with an excellent local reputation. Charcoal barbecue. Fillet steak recommended. Dine in pretty arcaded central patio of this small shopping centre.

Petit Bistro
French style bistro with fusion dishes and delicious desserts.

New Delhi
Reasonably priced, good quality Indian Restaurant.

La Alberiza
In the central patio, traditional Andalucian cuisine. They also offer a menu del dia (set price menu).
Other parts of Sotogrande Resort
Trocadero Beach Club
Classic upmarket fare - Mediterranean with a touch of Asian with colonial décor, in the old Beach Club.
Gaia Restaurant
Upmarket formal dining in the upstairs restaurant of the NH Almenara Hotel. Floor to ceiling windows and terrace to enjoy the views at dinner time, especially the sunsets.
Pueblo Nuevo de Guadiaro
There are a large number of cafes and bars in Pueblo Nuevo de Guadiario. If you want something quick choose any one to suit you taste. If you want something more special, we suggest you go to
Guadiaro
or
Torreguadiaro.
Torreguadiaro
(More about Torreguadiaro)
Torreguadiaro is the lively place to head for if you want a change from Sotogrande for drinks, tapas, or a full meal. Here is a selection - all are located on either side of one strip of road, so take your choice. Outside the town is generally less expensive, with a lively atmosphere in the summer.
Chambao Beach Bar Club
Beach bar on Playa Torreguadiaro with good sushi and fresh grilled fish. First stop if you are walking from Sotogrande, follow the wooden boardwalks.

InBoca Gastrobar
Stylish gastro-tapas bar. Reasonable prices, superb food, good atmosphere.

Puro Tapas
Stylish tapas bar with innovative tapas and contemporary decor. Quick service with friendly young staff; English and French spoken. Outside seating

SotoMaki Sushi Express
New small café for sushi lovers. Take-away and delivery service as well.

El Trasmallo de Agostino
Beachfront restaurant and bar serving traditional fish and seafood dishes. Sea views from glassed in terrace. Restaurant established in the 1970s, present owners since 2005.

Pedro's Cantina Tex Mex
Well-established and well-priced Mexican in an unglamorous shopping centre.
Guadiaro
(More about Guadiaro)

El Molino del Conde
Spanish restaurant with modern décor and beautiful patio, specialises in seafood and rice dishes. Mix of tapas and main courses. Paella recommended.

Si Siam
Authentic Thai restaurant with pleasant plant-filled outdoor eating area.

La Terraza de Teo
Restaurant and gastrobar with good selection of tapas - Andalucian with a modern twist. A little jewel hidden behind an unassuming facade. Excellent reviews.

Restaurante Antigua Venta Toledo
Very traditional Spanish roadside restaurant, the oldest eatery in Guadiario. Restaurant with charcoal grill and café bar.