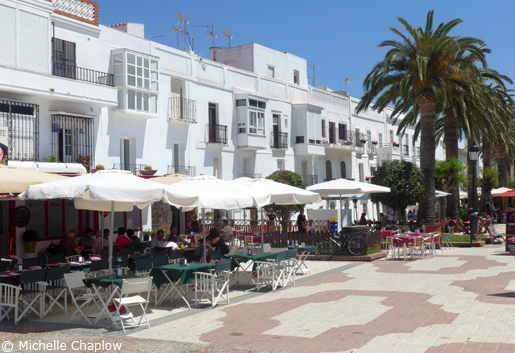 The palm tree-lined Alameda in Tarifa is the pertect spot for lunch and a wander.
LA ALAMEDA
This is a typical Andalucian tree-lined avenue with bars and restaurants, where the old folk sit on wrought-iron benches in the shade of the vast palms. You will find a number of good restaurants with outside terraces along the east side of the square - the restaurants are actually built into the old city wall and, unusually, have entrances on both sides of the wall.
At the bottom end of the square, nearest the port, is a statue of Tarifa's local hero, Guzman El Bueno - he was a soldier and a nobleman, founder of the Medina Sidonia dynasty.
Guzman sucessfully defended Tarifa from an attack by the Moors in 1296 on behalf of his king,
Sancho El Bravo
(Sancho IV of Castile), who had reconquered the city in 1292, creating an important western front of the Spanish territories. Sancho's statue can be seen just across the road, at the entrance to the
castle
.
Next to the Alameda is the old fishing port. To the west, walk down Calle Alcalde Juan Nuñez to the causeway Muelle de Rivera towards Isla de las Palomas. You are now at the south-western tip of Spain and only a few feet separate the Mediterranean sea and Atlantic Ocean. The island is closed to visitors except for occasional guided tours; owned by the Military, it is sometimes used as a holding point for illegal imigrants arriving from the dangerous crossing across the Straits of Gibraltar from Africa.
There are plenty of little tapas bars in the old town, just to the east of the Alameda. To get to this historic area full of atmosphere, inside the city walls, walk through the arch by the Theatre and Tourist Office, or through one of the restaurants.
The tourist office and municipal theatre are located on the Alameda.