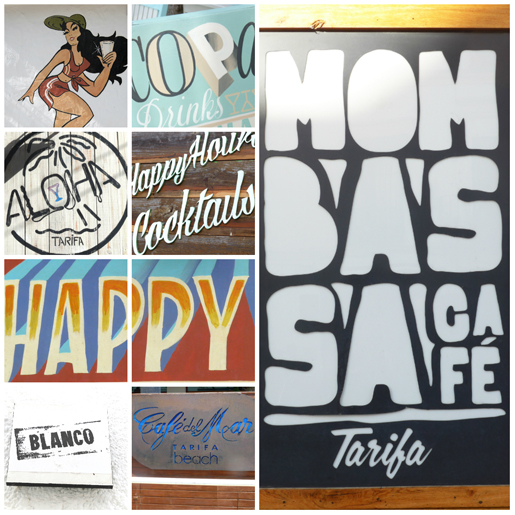 Tarifa's nightlife scene has something for everyone, from chilled-out to hard-core techno to cocktails.
Tarifa Nightlife 2014
by DJ George Whaley
Tarifa isn't only a mecca for fanatical wind and kite surfers, there are so many other aspects that make tarifa the beautiful place it is; whale watching on the straits, horse riding, land sailing, mojitos in the chillout beach bars like the famous Tumbao with their unforgettable sunsets and finally the nightlife scene which has its own unique vibe. It's the truly sensational mix of friendly people, positive outlooks and sporting culture that create something really special here in the southernmost point of Europe, only exaggerated by the views of Africa, another continent only 12km away!
Like almost all of Andalucia, the town only fires up around 23.00 or even midnight, after relaxing sunset sessions with cocktails in the beach bars followed by the typical tapas, at which point people hit the old town. The night starts in bars de copas, typically La Onda, Surf Bar and Taco Way. This is what we like to call pre-drinks, everyone meets up for a nice drink or cocktail and a chat. For the slightly more sophisticated 35/40+ crowd a brand new nightlife venue which is set to be extremely popular and already having great successes is Venice Cocktail Bar. It has just opened this year and is where you can taste probably the best gin and tonic you'll ever have; with all sorts of potions, peels and just general zestiness.
As far as bars go, Mosquito and Pepepotamos in the town centre are worth a visit for a fun evening with friends. Then there are the classics; the stylish El Pósito (open until 2am Sunday to Thursday and 3am on the weekends), La Tetería which is al aire libre (open air) and open 21:00-3:00 daily. Quirky shoe-shop-turned-cocktail-bar Vibram is also worth a visit. These all tend to simmer down between 02.00 and closing time 03.00, as you get later into the season the earlier everything fills up and the later it empties. This is when the crowd moves towards the bigger clubs with bigger speakers, this means less talking and more dancing!
La Ruina is a firm choice among Tarifeños for this second phase of the evening; it's the starting point of the 'real' night out in Tarifa and plays DeepHouse music until 4:30 on the weekends and 3:30 during the week. La Ruina has also been ranked in leading newspaper El Mundo's Top 10 list of clubs in Spain to ligar or flirt! The club stays full until 3.30, when Mombassa comes into play. Mombassa is the only nightclub in the centre of town open until 7am, making it the place to go! With funky dance music, good vibes and 2 floors it takes up a good portion of the night. Finally in El Poligono, the industrial estate a 15 minute walk or a 6 euro taxi ride from the centre, you will find 4 nightclubs; the most famous being Café Del Mar (Ibizan Origins), La Santa, Kubbeck and Danzzu. You'll find that as Mombassa fills up people head over towards Café Del Mar to join the more HardCore TechHouse fans to finish the night, this transition has been adopted as La Ruta de Tarifa (The Route).
OPen all year
There's only one club which stays open all year round: La Ruina, in Tarifa old town, which plays electronic and DeepHouse music with famous guest DJs. Open 00.00 to 04.30 on weekends, 03:30 on weekdays.
Summer
Many more clubs open in the summer, including:

Mombassa - in a converted cinema in the old town - pop music and select ambience. Expensive.
Almedina - Calle Almedina in the old town near the town hall square. Café bar with live flamenco on Thursday night; acoustic and classic to rock. Open 21.00 to 02.00

Café del Mar - on the industrial estate with resident DJs. Open 20.00 to 07.00.

Bear House - in the old town. Chill out, cocktail bar.

Tejota (Otherwise known as the 'German Bar') - a good place for a beer or long drink, frequented mostly by the German surf crowd (hence the nickname).
On summer weekends, beach hotels such as Dos Mares and Valdevaqueros hold outdoor parties in their gardens. Look out for 'invitations' being handed out in town, as well as posters advertising concerts.
George Whaley will be the resident DJ in Tumbao, La Ruina and Mombassa, also featuring in other nightclubs and events this summer season 2014.