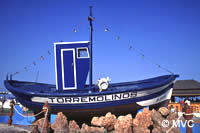 Don't get lost in Torremolinos
Torremolinos Tourist Office
The N340 from Málaga to Estepona skirts the town. The most central Torremolinos exit is Palacio de Congreso which is around 6 km from the airport and leads onto Avenida de los Manantiales where there is an underground car park. Street parking, especially during July and August, can be nightmarish. The main train station is on Paseo de la Nogalera, just west of Calle San Miguel, the pedestrianised main artery which leads down to the Bajondillo beach via a choice of steep steps or lift. The bus station is a few minutes walk east of the centre on Calle Hoyo.
The English-speaking main tourist office (952 37 95 12) is at Plaza Pablo Picasso, just north of Plaza Costa del Sol and is open Monday to Friday from 9 am to 1.30 pm. From July to September, there are additional tourism booths on the beachfront, including Playa de Bajondillo (952 37 19 09).
Banks and ATM's are mainly on Avenida Palma de Mallorca which runs through the centre of town and where the main post office is located.
You can connect to the Internet at Cyber Café, Avenida de los Manantiales 4 (95 205 8687). It's open from 10 am to 7 pm Monday to Friday and charges 300 pts an hour.
Search hotel in Torremolinos
Just ten minutes from the airport, the Convention Centre has 22 halls, ranging from three auditoriums, 13 committee rooms, 6 smaller meeting rooms, and an exhibition area on two levels with a total area of 6.000m2 with direct exits to the exterior on both floors. There is a total of 80 fully equipped secretarial suites, a restaurant and snack bar, 600 free of charge parking spaces for vehicles and up to 24 buses, 18.000 m2 landscaped gardens and full service of all the auxiliary and audio-visual aids available.