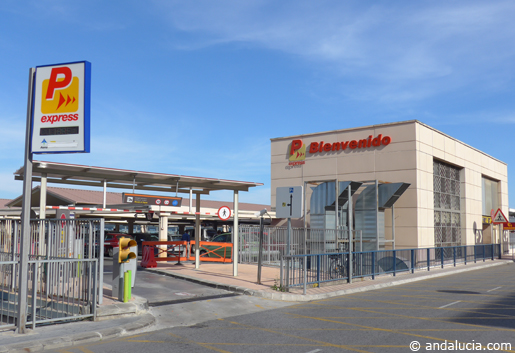 Express Parking is the top level of the multi story car park.
malaga airport parking
There are different parking options at Malaga Airport. The Express Malaga Airport Parking is the most convenient but also the most expensive. AENA the airport owners have a number of different car parks. An economic option especialy for longer stays is to park in one of the private garage facilities operated by specialist companies. See Airport Car parking listing below.
Express parking (P2)
Express Malaga Airport Parking, located at the departures level is the top level of the multi story car park. The entrance is opposite departures terminals 2 and 3 (and the drop off area). It is the most expensive parking area in Malaga Airport, but suitable for short stays of up to half an hour.
Cost: 15 mins = 1,75€ | 30 mins = 2,30€ | 1hr 3,80€ | 90mins 6,50€ | Max per day 34,70€
Airport Parking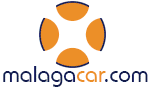 Parking at Malaga Airport
Park your car at Malaga airport from 1,58€ per day. Fully insured indoor parking with 24/7 CCTV security! Leave your car for 1 week or more and get a free exterior washing.

Helle Hollis Parking
Indoor parking at Malaga Airport –secured and guaranteed! Next to San Miguel. Open 24h/7days. Get 15% online discount!

Parking Airport Picasso
The best facilities where leaving your vehícle for long and short term parking, we have the best service quality / price ratio; discover why we are the best!
Parking (P1)
Malaga Airport parking one, (P1) is in the multi story car park opposite terminals 2 and 3; the entrance is at arrivals level (ground level). Follow signs to the car park entrance; next to the car hire return area. There is a travellator gangway on level 2 (departures level). Depending on where you park within the car park, it can take up to 10 minutes to walk to departures from P1.
Cost 0,04 per minute up to max daily cost of 18,30€
Parking (P7)
Airport Parking P7 is located by the General Aviation (private plane) terminal and is the same cost as Airport Parking P1:
Cost 0,04 per minute up to max daily cost of 18,30€
Long stay (P3)
The official long term Malaga airport parking is located a little way from the main terminal, near to the cargo terminal; it has room for 430 cars. There are some canopy covered places for shade but thse are usually ocupied. There is a free shuttle bus to take you back to the terminal which runs every15 minutes. When you arrive back to the airport, and wish to collect your car, there is a telephone point within the arrivals hall to the left of the baggage carousels, this phone is a direct line to the office at p3 and they will come directly to collect you – this service is 24 hours. Cost of parking in P3 is 19€ per day, but there is online pre-booking at significantly reduced cost. Note that if your return is delayed your parking tarif for the extra time will be at the full rate.
ECONOMIC PRIVATE GARAGE Parking.
There are other parking options at Malaga airport; there are a number of companies that offer a fast and efficient off-site parking service. These companies operate garages in commercial units in the industrial quarter surrounding the aiport; opposite the San Miguel factory, or in the area around the village of Juliana south of the A7 coast road. To park in these areas, drive straight to the garage, leave you car with the keys and they will take you immediately by minibus to departures at the Airport.
The minibus driver will give you a number to call on return. When you leave the baggage area, call the number and make you way to the pick-up point on the arrivals level; turn right out of arrivals and walk 100m to the underpass. Look for the sign "Bus de Cortesia" (Courtesy Bus) – the bus will take you back to your car. See listing below for companies that offer this service.