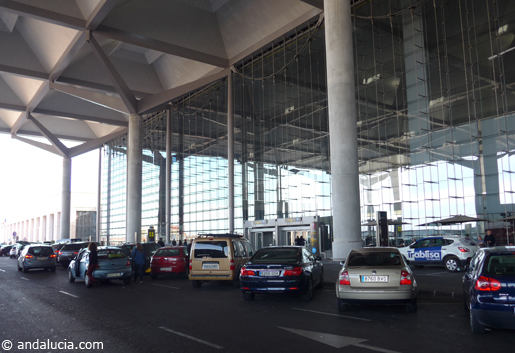 Old drop off point at Malaga Airport.
Drop off advice
If you are dropping someone off at Málaga airport, read our driving instructions and follow the signs to "Departures" ("Salidas", in Spanish ).


As from 21st February 2017 the old drop off bays (as seen in the photo above) have been closed. You now have to drop off passengers in the Express Car Park on the same level. The first 15 minutes is free. As you arrive at the upper departure area collect a car park ticket from the barrier. Folow the lane round and enter (no further barrrier) the Express Parking. There is plenty of space to unload passengers and luggage. The passengers walk accross the road into the terminal. Drive the car out of the exit, as long as you have not been more than 15 minutes you will be able to pass through the exit barrier with the ticket.
If you are dropping off someone and would like to briefly accompany that person, park same in the Express Parking at the same level. At 16 minutes you will have to pay for 16 minutes (not one minute). This car park is a bit more expensive than the general parking, but worth the convenience for short stays.
If you are dropping off someone with a physical handicap, you may wish to use the handicap parking spaces in the Express Parking. The regular parking areas also have meeting points where handicapped travelers can meet airport staff. These are generally located next to the machines where you pay for parking. For more information, see the Accessibility section.