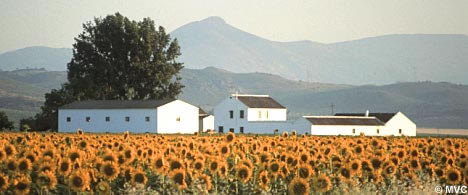 SEVILLA-GRANADA-ALMERÍA TRAIN ROUTE
By Fiona Flores Watson

Time: 5hr 30 mins
Frequency: four trains daily
Stops Seville Santa Justa, San Bernardo, Dos Hermanas, Marchena, Osuna, Pedrera, Antequera Santa Ana, Antequera Cuidad, Loja-San Francisco, Granada, Iznalloz, Benalua, Guadix, Fiñana, Gergal, Gador.
Granada station is closed to trains due to construction of the AVE line from Antequera to Granada. Passenger who book a ticket on this route will need to take a special bus service from Granada to Antequera. This is expected to continue until end of 2015.
This line heads south out of the Andalucian capital, stopping first at the city station of San Bernardo, near the Prado de San Sebastian and La Buhaira on Seville's Cercanias network. The following stop is Dos Hermanas, the satellite town to the south-east of Seville which has become a city in its own right; this station is also served by the Cercanias service.
The train then passes through the campiña.a fertile, rolling, sparsely populated lowland to the south and east of Seville, whose fields are planted with olive trees and cereals. It stops at the walled town of Marchena. and Osuna , with its fine mansions and palaces and the bullring where the finale to series five of Game of Thrones was fimed.

The line then climbs up into the Sierra Sur, stopping at Pedrera, the last town before entering Malaga province. Just after this, look out for the Fuente de Piedra lake on your right, a famous natural park which is home to thousands of flamingos, before turning east to Antequera. After this stop, the train climbs up into the Sierra de Loja and enters Granada province, before stopping at the town of Loja itself, which sits on the Genil river.

It then carries on east across the fertile plain of Granada to the capital itself.

Leaving Granada on the Almeria leg, the train heads first north alongside the motorway, and then east into the Sierra Arana, the northern part of the Sierra Nevada. It stops at Iznalloz and then turns south at Benalua, stopping next at Guadix, famous for its cave dwellings. Carrying on towards the south-east, the line then crosses into Almeria province, stopping at Fiñana, on the edge of the Sierra de Baza, continuing on to Gergal and Gador, at the eastern end of the Sierra de Gador

At this point, the line joins the river Andarax as far as its destination, Almeria.