The paper lanterns that first made their appearance at the 1877 fair.
Interesting Facts about Seville's April Fair
Seville's April fair has a long and varied history. Here are a few facts and figures associated with its past, and its present traditions.
Turning on the fair
The first thing you'll see when you arrive at the Seville Fair from the city centre is the portada - the gateway, where you traditionally enter the fairground. Everyone gets their photo taken in front of the portada. The huge structure gracing the entrance is an important part of the Fería decoration (designs are submitted each year, from which the winning entry is chosen), with Seville's portada modelled after a different building or theme each year.
The fair officially begins when the mayor ceremoniously turns on the lights (the alumbrao) – starting with the 22,000 bulbs that cover the portada. From there, the rest of the fairground lights up, section by section, in a wave that still makes newspaper front covers every year. The portada looks magical lit up at night time.
An April fair in May?
Seville's fair is officially known as the April Fair, but in fact, it  isn't always been celebrated entirely in April, and sometimes even takes place in May. The date depends on when Easter falls, as the Feria takes place two weeks after Semana Santa (Holy Week). 
In 1848, the fair partially coincided with Semana Santa, but since the Holy Week celebrations were a bit different back then, it didn't cause major problems. This would never be allowed today.
FerIa Rules
The Sevilla Fair might be all about drinking, dancing and parading about on horseback, but don't think for a minute this means there are no rules for participants; in fact, the rules are very strict. For example, the casetas (striped tents of varying sizes, but always with their own bar) must have their curtains pulled back from 12 midday till 8:00 at night – and also while the lighting is turned on.
Horses and carriages are also expected to abide by the rules - they are only allowed to parade about the grounds from noon till 8pm in the evening, at which time we suppose everyone should be inside the casetas, with the curtains closed, getting down to the real business of drinking and dancing!
Feria Paraphernalia
Each and every decorative element used in Seville's spring fair has its own unique history. The paper lanterns that are strung across the fairgrounds first made their appearance on the scene at the 1877 fair. The trademark casetas were first set up in 1893 and the fireworks first lit up fería skies in Seville all the way back in 1864.
Feria de Abril Special Tour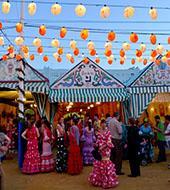 Be surprised by the world famous FERIA DE ABRIL. The annual festival or fair of the Sevillians. We take you to the wonderful world of this special festival with all its legends and traditions. An experience that you simply can not miss if you are in Seville this period. Absolutely not!  
Approx. 2hrs -  21  €

Destinations