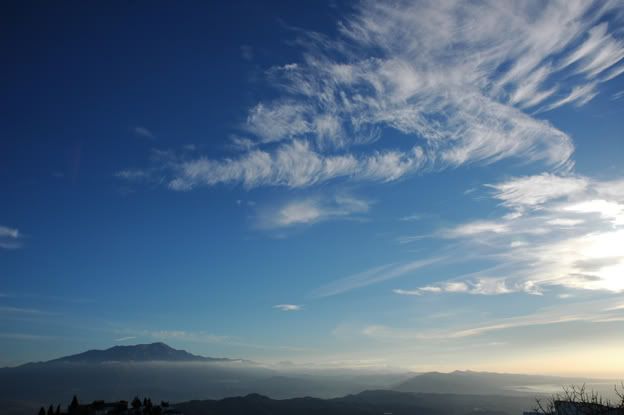 Sky and Maroma last week.
Grouser
---
Campo Kenny
Super Pic Grouser. Many thanks for posting it. It's strange we were only talking about the Casa last night and how it seems ages since we've seen the old mountain and the local sites and people there.

Didn't even know you'd been over again..........hope you had a great time and that you got some decent walks in.
Back to your picture, it's very difficult to work out aprox where our place is............looking at it from the angle of the shot I'd guess at NE. Was the shot taken from your place?

Many thanks once more for taking time to post the shot and we wish you and yours a very happy Christmas.

Regards,

Kenny

PS.Are you home for Christmas?
---
Just went for a week and had five days of perfect walking weather. Bit of a shock getting back to the UK. Pic taken on the hills just outside of Comares. UK for Christmas I'm afraid. Son won't do Spain and I guess I can't blame him. Spanish Village life is not quite what todays teenager is looking for. Seasons Greetings.
Grouser
---
Fabulous shot, Grouser.

We took some photos of lovely clear blue skies last week and stunning sunsets.
Also took quite a few of far views of the Sierra Nevadas when we went on a little walk, which turned out to take us 5 hours!

Considering we were only armed with two small bottles of water, 3 mint imperials, 4.50euros and a deactivated mobile phone, we had a great time. although at times I could have done with an oxygen tank, and the local mountain rescue team.

The shepherd/goatherd and his merry flock, bells and all, were quite a welcome diversion, and the hundreds of empty cartridge cases scattered around certainly had put paid to any other wildlife unfortunately.
I'm always disappointed when a liar's pants don't actually catch on fire.
---
Resident
Posts: 648
Joined: Wed Aug 11, 2004 4:14 pm
Grouser, have you walked to the top yet? Tried off roading in our Kia Picanta hire car but it wasn't playing the game, however, there looks to be a great walk to the top which I thought I'd take Wilko up in the summer?

If you take the road from Vinuela to Alhama de Granada, about halfway you come to a corner with two restaurants (both to be avoided btw) on a left hand bend next to a small bullring - in the middle of nowhere. Anyway, if you take the right hand dirt track into the Parque Natural ''whatever'' you arrive at a car park with signs to the top - look like a good leg stretcher.

Couldn't persuade HI to try it the other day as she had her heels on but still up for it.
---
Yes I walked up the old Ice men's route which starts above Canillas de Aceituno in the national park, where there is a map and information board. Had to abandon a first attempt in February 2006 as we walked into a blizzard above the tree line. Tried again with success in April the same year. It's about 18K round trip and took about eight hours including rests and Ibex spotting. The path is good contouring round the mountain with very little descending and is well marked until you get above the tree line. It is another hour to the summit from that point over rocky ground. A map and compass would be essential from there as it is pretty featureless, and it would be really easy to come down the wrong way if cloud came down, as it does so often. I think there are other routes up that aren't so demanding. I believe there is a route from Competa where you can get within 3 K of the summit on a dirt road, but that seems a bit like cheating to me. The walk was quality hill walking, that's as good as it gets, in my opinion, although we were all utterly exhausted at the end.
Let me know if you want more details.
Grouser
---
---
Resident
Posts: 648
Joined: Wed Aug 11, 2004 4:14 pm
Ah, didn't realise that there were so many Ibex about so probably won't take the hound with me, however I might try it in April.
---
---
Who is online
Users browsing this forum: No registered users and 6 guests