in our apartment we have highly polished cream tiles ( possibly marble).
Normally removing dirty footprints is,of course, easy.
However recently strange prints have appeared
!
The prints seem to have caused fading, so they look much lighter in colour than the tile.We have not been able to remove them. It is likely that have picked up something on the soles of my shoes which has caused this.
Here is a ( very poor) photo.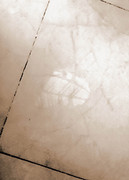 Sorry about the quality . The tiles are actually beautiful polished/ cream in colour. My attempt at "enhancing" is rubbish!
We'd like to sort it out ourselves, before approaching our ( very aimiable) Landlord.
Anyone out there with a similar experienced?
Thankyou
Cheers JB