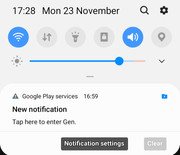 Re attached image: I am suddenly getting almost continous notifications like this.
When I tap it, I am directed to my "Secure Folder" ( why here?)
I then access it via password. Then I am told that I am signed out of google and have to sign in again.
On doing this, I am returned to the home screen
This has happened 4 times in the last hour.
Does anyone out there have any idea what is happening?
Please? Thankyou John B