I have been using Outlook ( Web) for ages. Today I noticed that on the extreme left of the pane,showing the folders, a column of Icons has appeared, including "Excel"
I have not subscribed to "Office 365". I do not, therefore, use Excel.I use "Libre Office" ( which is free !)
Interestingly if I open this "Excel" icon and save a "test" spreadsheet; when I open it again, it opens in "Libre Office Calc"
Also,It sends a copy to my "OneDrive"! I won't be using it again but am puzzled why it has just shown-up in Outlook.
Can anyone please explain this ?
Thankyou ( screenshot attached)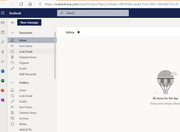 Sorry: for some reason ,when you tap on the image,you have to select "zoom" to see the column.