Starting today; When I open "Andalucia.com" I am getting an AD creeping up from the bottom of the screen
( See Image )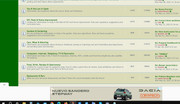 I am using Edge Browser.
This does not occur with any other site on the browser.
...only "Andalucia"
The Ads do
not
appear if I open "Andalucia" in Chrome.
I will, of course use Chrome from now on; but I would like to know what has happened here.
Any ideas anyone?
Thankyou
Cheers
JB