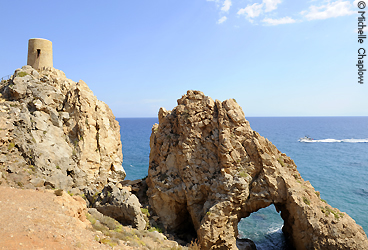 Places of Interest
Torre de Pirulico
This monument has been recently restored. Climb the steps for breathtaking views from the tower along the Mediterranean coastline. The tower is Moorish in origin and has served historically for strategic coastal defense. A natural arch formed by the erosion of the sea adjacent to the tower makes the area very interesting photographically and you will often find visitors taking snaps from various angles around the tower. /font>
La Fuente Mora (The Moorish Fountain)
The source of water dating back to Roman times, La FuenteMora still remains a focal point in the everyday life of the village. People come to fill containers of the fresh, spring water, much as they have done for centuries. A history of the village is also written upon the fountain's walls.
La Plaza Nueva (The New Plaza)
The view from the Plaza Nueva is one of the best in Mojacar. In the distance, the blue Mediterranean Sea glistens behind Mojacar beach. The panorama also includes the craggy hills and hinterland of the area, dotted with farms and homes.
Puerta de la Almedina (The Old City Gate)
This was the traditional entrance to Mojacar which dates back to Moorish times. You can still see the coat of arms of Mojacar which was engraved above the arch sometime in the 15 th century.
Casa del Torreón (The Old Customs House)
Just inside the old city gate is the 18 th century Casa del Torreón which served as the customs house for Mojacar. It was where visitors were taxed for the privilege of entering Mojacar.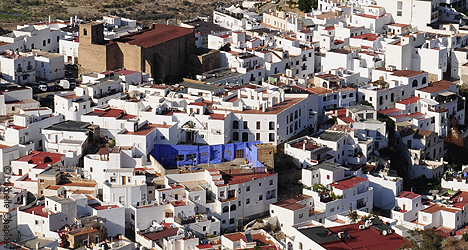 La Iglesia de Santa María (The Church of Santa Maria)
La Iglesia de Santa María dates back to the 14 th century and was originally a fortress. It became a church years later and still remains the religious centre of Mojacar life.